NITRA to offer 15 industry oriented programs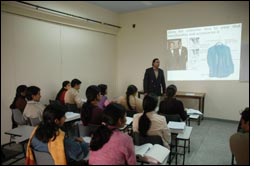 The Indian textile & clothing industry has grown up substantially in the past one decade at a pace attained never before.

The clothing industry in India, in particular, is growing by leaps and bounds. As reported by CRISIL, the textile & apparel industry is set to capture a market worth $110 billion by the year 2012.

This phenomenal growth is likely to create 60 lac new jobs for textile & apparel industry, out of which 45 lac new jobs to be available for apparel sector alone.

Top of the line global brands such as Nike, Adidas, Reebok, GAP, J. C. Penny, Walmart, Marks & Spencer are already sourcing a major portion of their merchandise from India and are planning to establish their manufacturing activities in India in the coming years. Hence, the situation is open to huge employment opportunities for skilled and competent professionals.

As of now a wide gap exists between the demand and supply of trained personnel for T&A industry due to inadequate number of training/educational institutes in the country.

Keeping this in view, NITRA, a centre of excellence in HRD activities, which was jointly established by the industry and Govt of India, made foray into manpower training in a big way.

NITRA is producing skilled, competent and professionally qualified youngsters to serve the textile & apparel industry and thereby helping the industry to develop competitive edge in the global market.

NITRA has already set benchmarking standard in manpower training and has become synonymous for developing and delivering quality manpower to textile & apparel industry.