Lakewood to get mesmerized with exotic headwear expo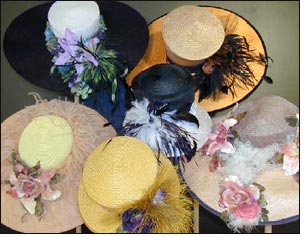 Radius Gallery at Heritage Center of Lakewood is all set to host one of the most unusual and extraordinary exhibition of headdresses, helmets, hats and a variety of other head wears owned by Dr Beverly Chico.

The exhibition scheduled to get commenced tomorrow will extend till October 8, 2008 and will display some 225 headpieces from the collection of Dr Chico and made from fine materials like yak hair, straw, wool, metals, plastics, silks and felts.

The most mystifying thing about these fabulous head wears is that they represent over 100 countries and belong to such tribal communities like Philippine Kalinga and Amazon Basin Yanomami who fashioned reed and animal skull headdresses. There are others that range from exotic bamboo or silk headwear of nineteenth-century imperial China, and leather plumed helmets of Victorian Europe, to fancy twentieth-century fashion toppers.

As for the exposition, the items to be showcased have been assembled from five continents and are organized into three basic categories.

To start with headdresses, there are exquisite gilded temple dancer's headpiece from Thailand; a penitente's hood from Seville, Spain; headrings from Rwanda; and a Bedouin woman's head and face veils from Egypt.

The section of helmets encompasses exotic combat styles of various centuries from a seventeenth-century, iron-and-gold-leaf Japanese feudal protector, a leather and beaver Napoleonic-era shako with its silver crest and plumes, to a nineteenth-century admiral's bicorne and Scotch highlander's feather bonnet and a U.S. Naval Academy hat.

The hat category is mainly organized on the basis of fabric like silk, woolen tams or berets and cotton turbans. With such enthralling relics coming from such diverse cultures and continents, the exposition is not only likely to be called the foremost of its kind but is sure to attract a huge crowd of spectators.