FLOR Carpet launches designs of Alexander Girard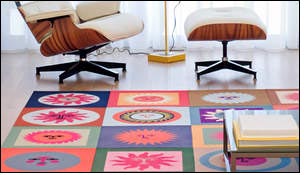 The brilliant color palette and famous graphic designs of American textile designer Alexander Girard are now available in a new line of FLOR carpet tiles. FLOR, a leading manufacturer of modular residential carpet tiles, has created four area rugs inspired by Girard's iconic designs, available through FLOR

FLOR and máXimo, the official source for designs by Alexander Girard, worked closely together to create four rugs featuring Girard's designs. The partnership was a natural one. In 1953 Girard wrote a letter to the Herman Miller Furniture Company describing his dream to create a carpet tile flooring system with a series of "interesting patterns ... to make possible a great variety of rug sizes by multiple combinations." Fifty-five years later, FLOR is honored to turn Girard's dream into a reality.

"Alexander Girard's designs are beautiful and functional, just like FLOR's modular carpet tiles," said Chip DeGrace, Vice President, Creative Strategy at FLOR. "The Girard line will add color and personality to any space. Thanks to FLOR's modular design, customers will have the option to mix and match the Girard rugs with other FLOR products to create runners and area rugs in a variety of different shapes and sizes."

As one of the most influential designers of the modern era, Girard's work is known for its balance of color, whimsical design and pure sophistication. Inspired by traditional folk art, Girard infused color and humor into vibrant modern design and FLOR brought this same look and feel to the Girard collection.