Quilts now embrace design & style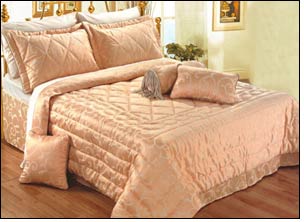 Quilts, once considered to be a covering that protected us from the spine chilling winters have become fashionable. With a passage of time, this simple warm blanket has gone through a sea change!

The designs, colours and techniques all vary from place to place and strongly reflect the traditions and cultures of a particular society. There is a wide range of stylish and trendy blankets available in the market, some are theme based while others carry images of nature.

The Asian quilts are known for their bright colours and rich patterns that seem to narrate a saga. The elephants, horses and camels printed or embroidered on the blankets brings alive the royal and majestic era. The quilts made by using gold and silver threads, colourful beads and sequences are still in demand, but now they serve more as a spread in drawing rooms rather than being on beds.

The European countries have a distinct style altogether; the colours are soft and patterns are inspired from nature. The designs are mostly made using appliqué and anyone can get mesmerized by the excellent craftsmanship.

Designers and home décor manufacturers have now brought a range of blankets that are sober yet elegant in terms of both colour selection and pattern. Fabrics like satin and silk are becoming popular as they add an element of richness and grace to the otherwise plain quilt.

Even the kids segment has not been left untouched as it is growing leaps and bounds; the designers and manufacturing units have started making quilts especially for children. Cartoon characters, fruits, vegetables and alphabets in bright florescent shades captures the attention of kids at first sight.