DyStar to endorse systematic of bluesign standards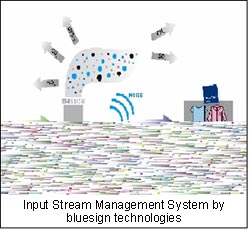 bluesign technologies ag and DyStar Textilfarben GmbH & Co KG announce their prospective cooperation. In the future DyStar will endorse the systematic of the bluesign standard as a supporter anfd will publish their bluesign compliant products in the bluefinder - a products database with ecologically and economically "Best Available Products" for the textile industry.

The product range in the bluefinder sees a significant extension thanks to this cooperation, and bluesign technologies ag is after this important enlargement able to meet the great demand, specifically from Far East, for bluesign certified dyestuffs and auxiliaries.

With DyStar on board bluesign technologies ag is now able to offer the ranges of the three worldwide largest manufacturers of textile chemicals and dyestuffs with the highest EHSlevel and with great knowledge in processes and application technology.

Competent lead and increase of product excellence Mr. Alan Cunningham, Vice President Textile Solutions at DyStar, stresses the importance of this partnership: "DyStar is committed to supporting textile producers in applying the technology needed for efficient and sustainable production and to achieving the highest standards of quality and ecology required by textile retailers and brands through our econfidence program. We are delighted to be a technology partner for bluesign technologies as it offers a unique global platform for independent verification of our commitment to best available technology and ecological compliance on textiles".