Indo Rama, ITI MoU to enhance academic standards in Nagpur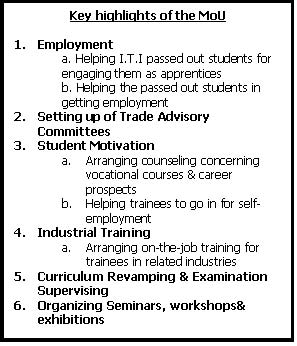 Indo Rama Synthetics (India) Ltd, India's largest dedicated polyester manufacturing company; announced the signing of a Memorandum of Understanding (MoU) with the Directorate of Vocational Education and Training, Maharashtra State for the upgradation of academic standards and teaching methods in ITI Nagpur.

The MoU was signed by Mr. R S Singhvi, President Corporate, Indo Rama Synthetics (India) Ltd and Mr. J D. Bhutange, Director I.T.I. Govt of Maharashtra, MUMBAI.

Speaking on the occasion, Mr. R S Singhvi, President - Corporate, Indo Rama said, "We at Indo Rama believe that skill development and industry-specific training is essential for youth to succeed in the professional environment.

I.T.I's play a vital role in technical skill development in India. However, it's imperative to constantly upgrade and revise the process so as to meet the changing industry requirements.

Through this association we aim to upgrade the academic standards and teaching methods at I.T.I Nagpur and introduce additional courses relevant to the current demand.

We would also be facilitating the student in securing employment. We are thankful to the Maharashtra Government for recognizing and supporting us in preparing the youth for present and future challenges."

Indo Rama is a socially responsible corporate citizen and have taken up initiatives in running medical check-up, blood donation camps, water recycling projects, rain water harvesting etc.

We have also established IRA INTERNATIONAL School, CBSE affliated higher secondary school, and a temple for the residents of Vidharba.

This initiative is an extension in the same principles and reinforces our commitment for the development of the region.

Elaborating on the MoU, Mr. J.D.Bhutange, added, "It has always been Maharashtra Government's endeavor to create better employment opportunities for the youth.

This initiative will not only ensure better quality training & industry experience but will also ensure higher employment rate for the state.

Indo Rama is the first to take up land in MSIDC Butibori to set up their manufacturing complex and have contributed for the life and welfare for the people of Maharashtra.

They are one of the first movers in the Vidarbha region to adopt an ITI and we are confident they will impart professionalism in management of the institute, bring in new perspective for the career and life of the students of ITI.

Our efforts to enter to similar agreement for Hingna and Wardha ITI s are likely to fructify in the near future.

Details of the MoU:
The MoU would come into effect from this academic year. As per the MoU, Indo Rama will collaborate with Directorate of Vocational Education and Training for upgradation of I.T.I Nagpur and help them in employment of students, student motivation, faculty and staff development & evaluation.

The company shall also help passed out students in securing apprenticeships & relevant employment across the country where suitable opportunities exist; registration with local employment exchange; overseas employment cell etc.