New benchmark for couture printer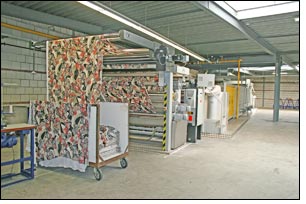 Leading textile specialist printer La Moda Imprimes B.V is setting a new benchmark for couture fabrics with its installation of a new Montex stenter.

Holland is not generally associated with the couture world of Europe's leading fashion houses, but, close to Eindhoven, in the Dutch countryside, textile printing company La Moda Imprimes has carved a niche market for its high quality designs and printing.

Formed in 1975, La Moda Imprimes B.V enjoys an enviable reputation for its exclusive print designs and printing reproducability with Europe's leading fashion houses.

This reputation for high quality couture fabrics and 'tight' deadlines has been further enhanced with the installation, earlier this year of a wash and finishing facility incorporating a Montex 6500 stenter.

Before the installation, La Moda had relied on commission finishers with the resulting problems of final quality control and missed deadlines.

According to a spokesman for La Moda, the company has eliminated all the problems with outsourcing and now controls its own quality procedures.

"Together with washing and finishing the fabric, we can now guarantee the true specified colour balance and density. For the first time we can achieve, for example, the perfect black and white without variations of grey."

He elaborated further, "We have an even better rapport with the customer – within minutes of receiving acceptance of a design we can immediately print a 10 m length and ensure same day delivery to the customer; something that was never guaranteed before."

Interestingly the company has also noticed a sharp drop in its designs being copied. La Moda, working with a team of European designers produces anything up to 20 designs at a time for the couture clientele.

Once approved, a 10 m length of fabric is printed, washed and finished for acceptance by its customer. A 50 m length is then produced for make-up and modelling at the major expositions and, depending on its success, quantities are produced for Europe's couture salons.

Supporting belt:
At the heart of the Montex operation, a fabric support belt has been fitted for additional fabric support through the stenter in addition to the conventional chain system.

The belt was specified by La Moda to eliminate any 'sag' in the centre of the fabric ensuring even better residual shrinkage across the fabric width. As a result, La Moda is achieving below 2% maximum shrinkage, and when required 0%.

This is considered absolutely imperative for finishing of La Moda's super quality silks and ultra light polyester fabrics.

The company, with three 14 frame printing units including a recently installed combination rotation or flat bed printer, is renowned for its printing quality on a wide range of cottons, wools, silk, polyesters and viscous fabrics.

Working with both woven or jersey, the split of fabrics is approximately 40% cotton and 40% polyesters with the balance being wool and silk.