Fading Naga handicraft gets recognition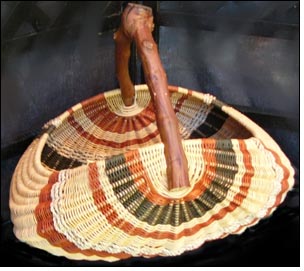 The Nagas are famous for their deep rooted culture and it strongly comes out in the form of art and craft. The tribe is famous for creating interesting handicraft items made from wood, cane and other readily available raw material from the forest.

Along with crafting captivating decorative products, weaving is also one of the specialties of Nagas, who weave motifs based on tribal folklore. Shawls, bags and jackets are created using bright and bold colours that are embellished with beads and stones.

But very few people outside the State are aware about the beautiful range of products that are made by tribal people of Nagaland. In order to make their craft popular and help the artisans financially a handicraft exhibition was recently organized in Bangalore.

An array of awe inspiring products like baskets, bowls, doors, carved benches made of tree trunks, shawls, scarves and bags, received high appreciation and pulled art loving crowd at the venue.

The expo proved to be an extremely encouraging experience for the participating artisans who were overwhelmed by the response their wood and bamboo based art works and handloom items generated.

Art appreciators believe that such initiatives of promoting the fading tribal handicraft should be taken up more frequently for keeping the rich and distinct craft alive.