Standard Textile President, Mr Heiman receives a Special Award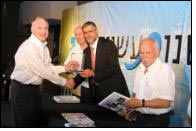 A special ceremony to recognize and honor "The Defenders of Industry in the Negev" was held recently in Kibbutz Mishmar HaNegev in Israel, in the presence of Eli Yishai, the Minister of Industry, Trade and Labor; Jacob Edery, Minister of Development of the Negev and Galil; Yehuda Segev, Director General of the Manufacturers' Association of Israel; and other distinguished guests.

The ceremony was held in conjunction with the launch of the "60 Years of Industry of the Negev" Album, which tells the story of the industries and the industrialists of the Negev from Israel's inception until.

Amongst the 12 honorees was the leading textile industrialist, Gary Heiman, President & CEO of "Standard Textile Co Inc" and Founder of "Arad Textile Industries".

Heiman stated that he considers it a great honor to be included in this prestigious landmark occasion alongside all past generations of industrial pioneers: "Israel's economic independence has always been heavily dependent on "Blue & White" industry in the peripheral areas of the country.

This is the reality of the past and it is up to all of us to assure it's continuation in the future." Heiman thanked his employees and management saying that without their devoted work and accomplishments, he could never have achieved the honor that had been bestowed upon him.

Heiman's fellow honorees included: Industrialist Stef Wertheimer, Founder of Iscar Group; Uri Verber, Founder of Netafim; Abraham Seroussi, former CEO of Israel Atomic Energy Commission (IAEC); Eli Hurvitz, Chairman of the Board of Teva Pharmaceutical Industries; Avraham (Bondi) Livnat, Founder and CEO of Taavura; Dr. Felix Zandman, Chairman and CEO of Vishay; Meir Dor, Founder of Baran Group; Dan Proper, Chairman of Osem; Akiva Mozes, CEO of ICL Fertilizers; Zvi Zur, one of the founders of Makhteshim; Arie (Lova) Eliav, educator and writer - all of whom share a mutual ongoing involvement and commitment to the industry of the Negev and who made a significant contribution to its development and consolidation.

Standard Textile, which was founded in 1940 by Gary's grandfather, is the world's largest, vertically integrated manufacturer and distributor of institutional textiles and apparel.

The company has 23 production facilities in 13 countries around the world, customers in over 60 countries and annual revenues of approximately $650 million.

"Arad Textile Industries, a division of Standard Textile, is the largest terry towel manufacturer in the Middle East and Europe, providing towels to the healthcare, hospitality, institutional and private sectors.

The company produces approximately 70 million towels annually, with sales revenue totaling about $120 million. Ninety-five percent (95%) of its products are exported, mainly to Europe and the United States.

Amongst Arad Textile Industries' customers are major U.S. hotel chains such as Marriott, Starwood, Gaylord, high-end Las Vegas casino hotels, the French hotel chain Accor and most of Europe's large industrial laundries, which provide towels for hotels and health care facilities. Over 800 employees are employed in the company's manufacturing plants located across Israel.