Thai textile goes green!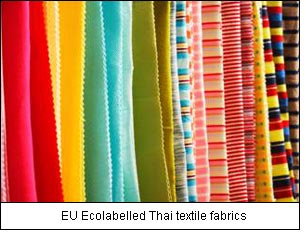 On 16 July 2008 the European Commission presented a series of proposals for Sustainable Consumption and Production (SCP) and Sustainable Industrial Policy (SIP) Action Plans. These proposals will contribute to improving the environmental performance of products and increasing the demand for more sustainable goods and production technologies, and also seek to encourage EU industry to take advantage of opportunities to innovate.

About a year ago, four Thai textile companies have been awarded the EU Ecolabel. They are some of the very first textile companies in Asia to receive the award. The event has sparked interest among Thai media and industry as it shows how sustainable production is not only good for the environment but that it can also lead to market opportunities for Thai textiles in the European market.

In an ever increasingly competitive market, the EU Flower is now perceived in Thailand as a symbol that can give Thai textile industry the competitive edge and added-value in the EU market.

The four pioneers are:
- Asia Fiber (products: 100% nylon textured yarn),
- Green Ville Trading (products: silk fabric),
- Rama Textile Industry (products: 100% cotton textured yarn) and
- Thong Thai Textile (products: cotton fabric and garments

Getting the Ecolabel award was not an easy matter. In order to transform the whole life-cycle of textile production to meet the high standard of the EU Ecolabel, training and upgrading took more than a year.

It was made possible through the collaboration of the National Metal and Materials Technology Center in Thailand (MTEC), Kasetsart University and the Danish Technological Institute under a project funded by the European Commission's SPF (Small Projects Facility in Economic Co-operation). This funding aimed to increase the competitiveness of Thai textile industries via EU's environmental standards and the EU Ecolabel.

All the hard work paid-off. One of the four Thai textile companies has revealed that despite the higher cost of production resulting from the implementation of the EU Flower scheme, they have had positive responses from the European market, and that they now expect export growth of up to 25% this year. However, they are still eyeing for a larger market opportunity in Europe, believing that their quality-led products will meet the demand of the expanding eco-market of the EU.

They will thus be present at the Texworld Fair in Paris on 22-25 September 2008. Indeed the 'Royal Thai Embassy in Brussels/Mission of Thailand to the EU' is interested in bringing the Thai companies awarded with the EU flower to participate to this fair with displays of their products under an 'EU Flower' theme at the Thai pavilion. A seminar titled 'EU Flower: Innovative Thai Textile Companies in the European Market' will also be organised. The aim is to promote better awareness of the EU Flower.

European Commission
Leave your Comments
Recommended
Want to know what happened in the textile world this week? Watch now!
news category
---
Related Categories: