Dyeing machine from Thies eliminates creases in textured jersey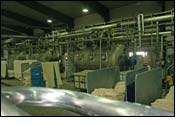 Introduction of airflow dyeing techniques with Thies Luft Roto Plus over the past nine months provides increased production and elimination of creasing difficulties for Sri Lanka's Textured Jersey; resulting in a further order and installation of two additional 1000 kg capacity Luft Roto Plus units.

A further two Thies 1000 kg Luft Roto Plus airflow dyeing machines completes Sri Lanka's Textured Jersey's introduction to airflow dyeing technology with a total of nine units being installed since the start of 2008 for dyeing cotton,viscose and model containing more than 10% elastane content.

With this high content of elastane, Textured Jersey had experienced problems with creasing throughout dyeing – with fabrics being compressed too much in the nozzle – using eco soft dyeing machines.

"The only solution," confirmed Shehan Witharana, General Manager – Operations, Textured Jersey, "was to introduce new air flow technology, blowing air to open the fabric so as to overcome the creasing problem being experienced."

Textured Jersey:
Textured Jersey's origins date back almost 50 years as a British company which relocated its production to a lower cost base and closing its UK operation in 2000. Today the company is jointly owned by Pacific Textiles holding 60% of the company and Brandix Lanka having a 40% holding.

Hong Kong listed Pacific Textiles has one of the largest manufacturing facilities in China and Brandix Lanka is the largest apparel exporter in Sri Lanka. Textured Jersey is located on a 600,000 ft2 facility in the Seethawaka Industrial Park, some 55 km north east of Colombo.

The state of the art facility includes knitting, dyeing and finishing capabilities producing 2,500,000 metres a month of weft knit single jersey, rib and interlock products for intimate apparel, casual and sportswear for some of the world's leading brands.

It is the market leader in cotton blended fabric and a clear leader in Sri Lanka of specialised fabrics such as viscose, modal, micro-modal and tencel.

World renown customers include Marks and Spencer, Next, Intimissimi, Victoria's Secrets and Adidas. The company is ISO 9001:2000 accredited and has OEKO Tex 100 certification. It has also been awarded the Gold certification for quality standards on behalf of Victoria's Secret's by the Limited Brands Quality Systems audit.

First Thies:
Textured Jersey UK had been a long established user of Thies dyeing machines. With the move to Sri Lanka the company transferred three eco soft machines from the UK operation and ordered six Ecosoft Plus units for the new dyeing facility to produce 40 t/week.

In a two way venture Textured Jersey cooperated with leading local apparel manufacturer MAS Holding who were seeking a backward integration operation through one of its divisions, Linear Clothing. By 2003 the company was struggling and saw the departure of the UK company, leaving MAS Holdings inviting Pacific Textiles to join the joint venture.