'Situation remains tough & difficult to predict' – Chairman, BASF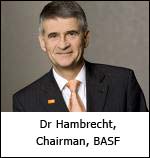 BASF's global business declined significantly in December 2008. In all regions, demand for chemical products has not picked up in the first half of January and customers are continuing to destock.

BASF's chairman, Dr. Jürgen Hambrecht, currently sees no signs of a turnaround: "The situation remains tough and difficult to predict. We do not expect the economic environment to improve in the coming months." The decline in business is greater than expected in November and will negatively impact earnings.

BASF reduced capacity utilization at its production plants at its six Verbund sites worldwide in mid-November. On average, the capacity utilization rate within the BASF Group is currently less than 75 percent. Only demand for crop protection products and products for the food industry remains high.

Since implementing the production capacity reductions, BASF has wherever possible been using flexible working time arrangements such as reduction of overtime and holiday accounts at the affected sites worldwide. In doing so, the company is also utilizing the benefits offered by its integrated approach to production known as Verbund, which allows employees to be transferred between plants with varying capacity utilization rates.

"BASF's team worldwide has shown an enormous degree of flexibility and solidarity in responding to the measures that have been necessary. I would like to thank all our employees, and I trust in their continued support," said Hambrecht.

Flexible working time arrangements are no longer sufficient to absorb the effects of production cuts everywhere. This applies primarily to sites that manufacture products for the automotive industry. For example, short-time working will be introduced in February for approximately 1,500 employees at BASF Coatings' site in Münster, Germany, and for 180 employees in Schwarzheide, Germany.

Working hours have already been reduced for about 150 employees at two smaller coatings sites in Italy. BASF cannot rule out the introduction of short-time working at further sites. In Ludwigshafen and Antwerp, it can be avoided for the time being thanks to the use of flexible manpower planning.

The company's management has already agreed a preliminary framework with employee representatives that will allow the rapid introduction of short-time working in Ludwigshafen if necessary.

(Note: In Germany, short-time working is an instrument that companies can use to avoid redundancies in difficult economic situations. During short-time work, employees work less or not at all for a maximum of 18 months. The loss of earnings incurred is in part compensated by short-time working benefits paid by the Federal Employment Agency).

"We will maintain strict discipline with regard to costs and expenditures. And we will accelerate the implementation of our existing global restructuring and efficiency programs," said Hambrecht. BASF has already announced plant closures in North America and Asia: Examples include a BASF coatings site in New Jersey and a production plant for precursors for plastics in Korea.