DOMOTEX asia/CHINAFLOOR - Event for sourcing best floor covering products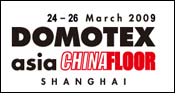 DOMOTEX asia/CHINAFLOOR, Asian show of DOMOTEX worldwide events, firmly established itself in past 10 years as the largest international trade fair for total floor covering products and solutions in Asia Pacific region and the second largest in the world. It has been internationally recognized as one of the best places for sourcing and selling floor coverings.

DOMOTEX asia/CHINAFLOOR provides a supreme industry platform where manufacturers from China & abroad present new products and promote brands. DOMOTEX asia/CHINAFLOOR also encourages the communication within the industry, brings numerous business opportunities and actively promotes the development of floor covering industry in Asia.

Agents, traders, buyers and manufacturers from China and Asia come to source products from the Asian and international flooring market and to witness what opportunities this market is offering.

A New Height in the Asian Century:
As Asia's No.1 trade show for flooring industry, DOMOTEX asia/CHINAFLOOR will celebrate its 11th edition again in Shanghai during March 24 to 26, 2009. DOMOTEX asia/CHINAFLOOR 2009 will occupy 8.5 halls at Shanghai New International Expo Centre (SNIEC) with an expected gross space covering 97,750 square meters. It is forecasted that about 1,100 exhibitors from Asia and abroad will present their products and promote their brands in front of more than 42,000 professional visitors and buyers from China and other Asian countries.

What was important in the past is now even more important in 2009:
Again the show is growing and further improves the structure of the site layout. For the first time, a complete hall will be dedicated to resilient floorings which reflects the strong demand for this type of flooring in the Asian market. Installation, maintenance and application technologies have been grouped together to form a center of floor-laying and maintaining competence ready for the needs of the Asian market.

More extensive special events and a varied accompanying program add value for visitors and exhibitors: Asia Flooring Forum as the all-in-one industry platform will deal with hot topics as policy, technology, management, market and trends and design. Chinese, US and European associations for wood flooring will exchange ideas with major issues at Sino-US-Europe Flooring Summit.

Sports Arena will attract the constructors of nationwide sport stadiums in co-operation with NAME OF THE GOVERNMENT BODY. Lay-Tech will display the state-of-the art laying equipment and techniques, whereas Pro-Tech will show the latest cleaning and maintenance technologies.

Rational classification and sophisticated product segmentation freely guide professional visitors and buyers locate their target sellers at a glance. Textile Floor Coverings and Area Rugs will lead the west wing of SNIEC taking Hall W1-W2, and half of Hall W3; while for East wing, Resilient Flooring, arousingmore and more attention from the market, will cover Hall E1. Floortech asia will again be located in Hall E2.