3D or form finishing technology to be highlighted at IMB 2009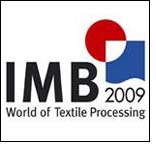 Versatility, flexibility, productivity, and quality are the name of the game when it comes to the pressing and finishing of any garment. Style runs are becoming shorter, design and styling more varied and today's fibres, fabrics, special dyes and finishes are becoming more specialised. They often necessitate very tightly controlled pressing parameters to ensure a reproducible quality finish. Eco-friendliness is also increasingly a key priority in terms of ergonomic design, saving of energy, noise reduction etc.

IMB 2009 will address this development in the market, and from April 21 to 24, 2009 visitors to Cologne will be presented with a large range of products in the ironing and finishing area.

One of the most important developments in recent years, for example, has been the technology to extrude extremely fine man made filaments, less than 1.0 denier, made from synthetics such as polyester, nylon and viscose whilst maintaining all the strength, uniformity and processing characteristics expected by textile manufacturers and consumers. These 'Microfibres' not only provide unique physical and mechanical performance in specialist outdoor wear for example, they also provide easy shaping characteristics, superb drape-ability, wrinkle resistance and silk like feel and are used in diverse ranges of apparel from tailored jackets and trousers, blouses, dresses, sportswear, outerwear and rainwear to swimwear.

However, due to the very nature of the microfibres, as with as many of today's special finishes and treatments, extra care must be taken when pressing and finishing these garments to avoid shines, marks or glazes. Typically, they call for low temperature and low pressure, dry steam and are often best 'pressed' from inside using form finishers.

The manufacture of ladies dresses and blouses necessitates the need for more flexibility and versatility than probably any other product. Fashion dictated hem lengths may be long, short, mid length, wide or narrow. Shoulders and sleeve heads may be padded, dropped, puffed, gathered, set in, raglan, magyar, etc. Sleeves may be present or not, long, short, hemmed, cuffed, gathered, puffed, bound, gusseted. Collars and necklines are almost infinite. Fabrics may range from very fine cottons, silks, georgettes, micro fibres, crepes, to wools, velvets, corduroy and denims. Waists may be set high, low, seamed, draped or darted. Stitching may be decorative, functional or both at the same time, as may the threads that are used. Additional ornamentation such as embroidery, beads and ruffles may be present. 3D or form finishing again is often the most appropriate method of pressing and finishing these garments just to ensure they maintain its material properties together with its specialties in design.

Indeed this method of 3D finishing is also especially useful for any type of structured or cut thread fabric such as corduroy and velvet or 'hairy' fabrics such as cashmere or fleeces or any kind of delicate knitwear, where outside pressure can destroy the natural look of the fabric whilst sewing problems such as puckering can be minimized. Forms, or 3D finishers, are getting more sophisticated to cater for these special needs.