Plexus cotton market report indicate uptrend for January '09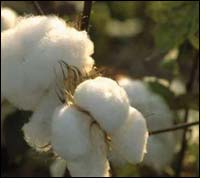 NY futures continued to move higher this week, as March gained 106 points to close at 50.06 cents, while December advanced 193 points to close at 55.97 cents.

The futures market continued to follow a higher trending AWP (Adjusted World Price), which as of tomorrow will be set at 40.02 cents, up 160 points from this week's 38.42 cents. The daily rate was calculating at 40.21 cents this morning.

In regards to the AWP calculation, last week we incorrectly stated that only 2 out of 4 West African quotes were allowed to be part of the calculation and that Central Asia was not eligible for the 2008/09 season. While these restrictions are true in the case of the Cotlook A-index, the USDA is not bound by the same rules when it comes to the AWP calculation, since the regulations simply direct it to use the five lowest quotes, with no exclusions.

As a consequence of this difference in methodology the Cotlook A-index calculated at 59.35 cents this morning, while the USDA average of the five cheapest quotes averaged 58.80 cents, or 55 points less than the Cotlook A-index. While both calculations include Tanzanian (57.75), Benin (58.50) and Mali (59.00) as their three cheapest origins, the USDA currently uses Ivory Coast (59.00) and Central Asia (59.75) in its fourth and fifth spot, while the Cotlook A-index lists Greek and Brazilian (both at 60.75) instead.

This week's AWP vs. Futures spread was quite a bit higher than in previous weeks, as it moved within a range of 1047 to 1398 points. The reason behind this widening spread was probably last Friday's de-certification of 523'061 bales, which coincided with the release of an excellent US export sales report of over 470'000 bales. These two reports spooked some of the March shorts into covering and caused the futures market to extend its range to almost 1400 points above the AWP. However, more sobering news on the economic front and a slow physical market curbed the bulls' enthusiasm this week and values settled back into a more traditional spread, with March closing today 1004 points above the new AWP of 40.02.

This morning's dismal export sales report of 110'500 running bales and disappointing shipments of 138'400 bales reminded traders that business is still very anemic and that last week's sales report was an exception, not the new rule! Additionally, we learned today that US mill consumption dropped off a cliff last month, with the annualized pace dropping to just 3.07 bales in December. We will have to wait for further evidence to determine whether this was just an aberration or the beginning of a worrisome trend in US mill use.

So where do we go from here? We still believe that the futures market remains confined to a certain range above the AWP and that the AWP is dictating the game, not vice versa. In that regard we don't see values run away to the upside, because mills are very much resisting to pay higher prices and there are still a lot of origins with plenty of cotton for sale. India and Central Asian growths hold the key to the world price, because their absence from the export market has allowed values to creep higher in recent months. However, while India may not lower its export price, it will probably not raise it either, which means that the rest of the world is not far from catching up to the Indian price and therefore there will be more than enough supply in the low to mid-60s, which should cap any upside potential in the near future.