Karur home textiles units see 35% drop in exports to US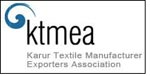 The Global Slow down has no doubt taken its toll on exports sector notably Textiles causing significant job losses. Even at this juncture the CSO (Central Statistical Organization) places GDP growth for the current year at 7.1% is an optimistic number, Mr.Gopalakrishnan, Secretary, KTMEA observed.

While stating this, the positive attitude of Karur Exporters are not cutting the jobs for the existing, trying to focus on cost reduction measures (on other grounds) & restructuring the work schedule as per the market demand for their business survival.

He also observed, the last fair at FRANKFURT buyers were also much optimistic and showing interest on our products which is giving a strength to our industry at this juncture.

As a Whole, to explore new a market and export opportunities, are the immediate remedy to face this problem and of course the government support is needed to bail out the sector in particularly, stressing to waive the FRINGE BENEFIT TAX, SALES TAX & VAT, which is long demand from our side to the concerned authorities.

Mr.V Kumar, The President, KTMEA, KARUR pointed out the following points.
1. The Industry registered huge investments in infrastructure and other upgradation facilities over the last three years.
2. The meltdown has just started to surface and we started feeling the pinch since last March itself. There is a decrease in exports 25 to 30% to US and overall drop in exports could be around 35%.– 40%
3. Importers buying capacity has comedown and they started postpone purchases. It leads to cancellation / delayed shipment / delayed payment demand for lowering of price (Up to 3 %), longer credit period and some uncertainty.
4. Export volumes fell by 5% in 2006-07 and further by 10-15% compared to the earlier year 2007-08.
5. The drop in volumes during the current fiscal year is expected to be around 30%.
6. Select exporters have shifted focus to the domestic market. They cannot expect volume growth in the domestic arena.
7. Need separate platform for textile industry as it employed huge population next to agriculture.

Mr.M Sivakannan, President, Karur Textile Forum & Managing Director, Amaravathi Textiles, Karur.
1. The Fringe benefit tax (FBT) and Service tax has added to our woes. The Government announced some relief in Service Tax in December and it should be with retrospective effect and the amount service tax paid from April last should be refunded at the earliest.
2. The refund procedures are cumbersome and some of the clauses unreasonable. This is could result in rejection of most applications citing lack of proper evidence. He pointed out to waive the Fringe benefit Tax.
3. Duty Drawback should be increased by the 4% to make prices globally viable and interest on term loan reduced to 9%
4. The Forum has also sought a two year moratorium on repayment of term loan.
5. The Focus Market Scheme has not taken off in the expected way. There should an intense bilateral dialogue with the importing countries at the ministerial level. Indian Awareness by conducting conferences, seminars, fairs etc.