'We have quickly aligned businesses with realities of global economy' – Mr Hulme, Huntsman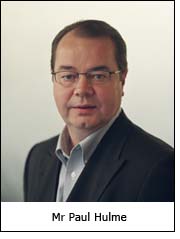 The global economic turmoil prompted by the sub-prime crisis, has created a tsunami of sorts in worldwide economies, developed or developing without any differentiation. The textile sector, as expected is bearing the brunt of the crisis. Huge investments have been made in the sector, particularly in the petrochemical, dyes and chemical sector in the last few years.

The chemical sector entails huge fixed and working capital investments, but all that is now threatened by the global slowdown. Thousands of people are facing layoffs from the sector, due to a cutback in operating capacities and also restructuring of operations undertaken by a majority of worldwide companies.

To get a better perspective on the global happenings and the tribulations faced by the chemical sector, fibre2fashion spoke to Mr Paul Hulme, President, Materials & Effects division, Huntsman Corporation. Huntsman is a global manufacturer and marketer of differentiated chemicals, with its headquarters in the US.

Its operating companies manufacture products for a variety of global industries, including chemicals, plastics, automotive, aviation, textiles, footwear, paints and coatings, construction, technology, agriculture, health care, detergent, personal care, furniture, appliances and packaging.

Originally known for pioneering innovations in packaging and, later, for rapid and integrated growth in petrochemicals, Huntsman has 13,000 employees and 2007 revenues of approximately US $10 billion and operates from multiple locations worldwide. The company has also initiated a slew of restructuring measures in the last few months.

We started off by asking Mr Hulme his view and opinion on the present state of the worldwide textile chemicals industry, who explained by saying, "We see a significant slow down in the textile industry as a consequence of reduced consumer spending, which led to a downturn in the textile dyes and chemical business especially in the second half of 2008 and in particular in the apparel and home textile segments.

This is a global issue which has also affected the Asian region, which relies massively on exports into the western countries. In addition to the downturn, this industry had to face major adverse effects such as currency exchange rates and significant increases and decreases, as well in raw materials and energy costs."

To another question on how promising is the business of technical textiles and its scope at Huntsman, he disclosed, "The whole textile division at Huntsman is completing its restructuring plan and strategic refocus initiated in 2006 after the acquisition from Ciba. Technical textiles, which is now integrated in the Specialty Textiles Strategic Business Unit, means a concentration on six core market segments where we see significant opportunity for growth and innovation.