Lacoste's 50 colours per season relies on Thies know-how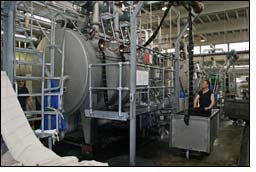 Devanlay's French plant – as the powerhouse of Lacoste's 50 colours per season – relies on Thies know-how in guaranteeing deeper shades, and complete reproducibility and quality assurance.

As part of a continuous investment programme in the latest technology, Devanlay is currently carrying out extensive tests with dyeing machinery specialist Thies, prior to investing in its next generation of dyeing machines.

One of the key features of the world famous Lacoste brand's knitwear is bold and vibrant colour, and Devanlay – as the brand's sole supplier of finished fabrics – has been a dedicated user of Thies machines at its finishing plant in Troyes, France, since the 1970s.

At the moment the Troyes dyehouse is equipped with 18 Thies rotoMaster units, with capacities ranging from 120 to 340kg, plus a number of smaller 30kg units for sampling. Knitting and dyehouse manager Jean-Christophe Tripier, however, is aware that the latest Thies technology can offer new advantages.

"We are particularly looking to reduce the consumption of water at the plant," he said, "and for this reason we have been running tests at the Thies research and development centre in Germany on the company's Luft-roto Plus.

"Of course we are also looking at increasing productivity as much as we can, and reproducibility is another big issue."

The Luft-roto Plus combines safe fabric transport and flexibility with new innovations in liquor transfer, liquor penetration and process technology.

The ascending fabric passes through the machine's liquor nozzle before moving over the transport winch, enabling practical liquor ratios as low as 1:3 to be achieved. An air transport system ensures optimised plaiting of the impregnated material into the almost liquor free, gravity driven, inner rotating chamber.

The novel technology of the Luft-roto Plus reduces both process times and energy consumption while at the same time enhancing the quality of the materials being processed. The highly versatile machines can be used to dye all types of fabrics, fibres and blends.

Lacoste's L1212 jersey petit pique knit polo shirts revolutionised sportswear back in the 1930s, both in replacing woven linen fabrics with much more adaptable breathable knits and in paving the way for the conspicuous branding to be found on clothing today – the famous Lacoste crocodile motif was the very first to appear on the outside of a garment.

Since the year 2000, Devanlay has been solely responsible for the design, manufacture and distribution of Lacoste-branded clothing, with a worldwide licence that extends until the year 2025.

Other companies have similar licences for the Lacoste brand, such as Procter & Gamble for perfume, Samsonite for leather goods and Pentland for footwear, and in total in 2007, some 58 million articles bearing the crocodile were sold – the equivalent of two items every second and achieving wholesale sales of Euros1.557 billion. Clothing, however, remains the largest area, representing over 58% of the sales.