Senator Loren pushes measures to strengthen fiber industry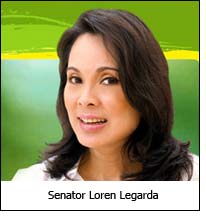 Senator Loren Legarda, chairman of the Senate committee on agriculture, urged the Department of Agriculture to undertake measures to strengthen the market for fiber crops so that land area devoted to its cultivation can be expanded.

"I believe that the tropical fabric industry in the entire ASEAN region has great potentials in the world market. However, between where we are now and where we want to be in the world market, is a long way to go. A lot of work needs to be done," Loren said.

Loren reported that the Philippine Textile Research Institute (PTRI), an agency of the Department of Science and Technology, is already implementing R & D programs in natural fabrics, natural dyes, and the silk industry to blend with natural fabrics such as abaca, banana, pineapple and silk. "This program should be strengthened," she said.

"In consultation and meetings that I conducted with stakeholders of this industry, I came to know that there is a gap between the buyers and the producers - there is a need to improve the market to bring these two players together," the senator said.

According to Loren, the loom-weavers and the artists who labor on crafting our tropical fabrics such as Barong Tagalog and Philippine ternos had lamented on the lack of capital and equipment.

"Most of them reside in rural areas; they have small means in acquiring looms that will help them meet the demand of their customers. And how will they be able to retain customers if they cannot meet these demands," Loren asked.

The government financial institutions, Loren said, should help them avail of credit and as much as possible at a reasonable interest rate.

"We should therefore promote foreign investments and linkages in the industry to achieve scale economies, establish a reliable supply of materials and adopt modern high technology machinery for greater productivity. And the important part - we should ensure that the textile producers benefit directly from these," Loren, who also chairs the Congressional Oversight Committee on Agricultural and Fisheries Modernization, said.

According to Loren, government should provide the public goods in terms of farm-to-market roads, market information, and R & D.

"Programs geared towards the development of this industry should be in place, such as skills training, financial assistance, and promotions showcasing our products in other parts of the world," Loren said.

Loren reported that in 2004, Congress enacted the Tropical Fabrics Act, which she authored. The law prescribes the use of Philippine tropical fabrics purchased from local sources for uniforms of public officials and employees and for purposes which require the use of fabrics in government offices and functions. However the law has yet to be implemented due to lack of funds. Loren expressed hope that Congress could help address the problem.

"Moreover, we can encourage other ASEAN member countries to adopt a similar law, if they have not done so already. This would realize the objectives of the law and ensure greater market for our tropical fabrics," Loren said.