Stimulus package for textile & garment sector on anvil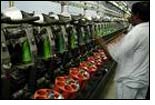 According to the Turkish Industry and Trade Minister, Mr Zafer Caglayan, he expects the recessionary trends prevailing in the markets of the European Union to continue to affect the economy of Turkey for a further period of six to seven months.

He continued by saying that, the crisis which had affected the financial markets of the western countries, were unscathed in Turkey and the direct hit has been felt by the manufacturing sector and the government had prepared a action plan to support the textiles and garment sector.

He explained by saying that, short, medium and long term medium terms plans would be announced and launched, for the benefit of the textile and garment industry once the draft package of the same was discussed and approved in the Turkish Parliament.

Commenting on employment figures, he said there was 2 percent fall in production, which led to a 30 percent fall in the country's employment figures.