Clariant addresses challenging economic environment by further cost reduction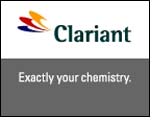 Clariant, a world leader in specialty chemicals, announced sales of CHF 8.1 billion for the Full Year 2008 compared to CHF 8.5 billion in 2007. This translates into a 1% growth in local currency and a 5% decline in CHF.

• Sales of CHF 8.1 billion in 2008, up 1% in local currencies
• Price increase of 7% compensates for a 15% increase in raw material costs
• Volume erosion in most businesses in Q4
• Operating income margin before exceptionals up to 6.6% from 6.3% in 2007
• SG&A costs down to 20.3% from 20.8% of sales
• Net loss of CHF 37 million due to CHF 180 million impairment in Textile and Leather Businesses
• Operating cash flow at CHF 391 million
• Net debt reduced to CHF 1.21 billion from CHF 1.36 billion; solid maturity profile

Outlook: Clariant addresses challenging economic environment by further restructuring and focusing on cash generation and cost reduction

CEO Hariolf Kottmann commented: "Our company achieved an improved operating margin and a solid cash flow from operations in 2008 against the backdrop of a steep decline in demand in the last quarter. We will adjust for declining demand in our markets. At the same time, we need to accelerate our restructuring efforts in order to catch up with our competitors. On the foundation of a sustainable operational performance we will manage the company for profitable growth in 2011 and beyond."

Clariant went through two distinct phases during fiscal year 2008. In the first nine months, the company continued to benefit from a stable demand and could cope with rising raw material costs and adverse currency movements by substantially increasing sales prices. In the fourth quarter, Clariant was significantly impacted by an unprecedented decline in global economic activity that led to a weaker demand from customer industries such as textile, leather, automotive and construction. Other markets such as agrochemicals, oil services or de-icing showed resilience against the downturn. Clariant countered the unfavorable demand development in Q4 by reducing temporary employees and overtime as well as extended plant shutdowns over Christmas.

The company could offset a 15% increase in raw materials costs in 2008 by sales price increases of 7%. Due to low capacity utilization in the fourth quarter the gross margin was slightly down to 28.7% from last year's 29.2%. Because of Clariant's strong focus on SG&A costs reduction, the operating margin before exceptional items improved to 6.6 % from 6.3 % in the previous year. The operating income before exceptionals reached CHF 530 million compared to CHF 539 million in 2007.

As a result of the deterioration of the leather and textile markets and their uncertainevolution in 2009, Clariant revised the business plans for these two businesses, which led to an impairment of CHF 180 million.