Mohawk Industries facing unprecedented time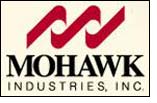 Mohawk Industries Inc announced 2008 fourth quarter sales of $1,485 million, a decrease of 18% from 2007. Excluding charges, our operating income was $61 million for the quarter as we had anticipated. Operating income including charges was a loss of $93 million. As we discussed the possibility in the third quarter call, the continuing decline in Mohawk's stock price and deterioration of industry conditions during the fourth quarter resulted in a pre-tax non-cash impairment charge of $124 million for goodwill and other intangible assets.

During the quarter, we recorded a $30 million pre-tax charge related to business restructuring as previously announced. The company generated cash flow from operations of $199 million and paid down debt of $100 million. A net loss of $128 million or $1.87 per share was reported including these charges.

Net sales for the year were $6,826 million representing a 10% decrease from 2007. Excluding charges, our operating income was $449 million for the year. Operating income including charges was a loss of $1,124 million. The net loss was $1,458 million or $21.32 per share including pre-tax non-cash charges for goodwill and intangibles of $1,543 million, and a deferred tax impairment of $253 million and a business restructuring charge of $30 million pre-tax. We generated $570 million of cash flow from operations and paid debt of $333 million during the year.

In commenting on the fourth quarter results, Jeffrey S. Lorberbaum, Chairman and CEO stated, "We are in an unprecedented time with the U.S. and World economies under great stress. Our category is suffering from the same issues as the entire economy including increasing unemployment, falling consumer confidence, limited credit availability and declining business investment. In addition, the housing contraction has had a significant impact on the purchase of flooring for our residential channels.

In this environment we are focused on cash flow and the balance sheet. Our balance sheet remains strong with over $850 million credit availability. All of our business units have a priority to maximize cash by reducing costs, improving working capital, limiting capital expenditures, and focusing on actions which positively impact sales and margins. All of our segments have taken aggressive steps and our capital structure and future cash flow will allow us to manage through the downturn.

The Mohawk segment sales declined 17% this quarter with both the residential and commercial businesses down. In the fourth quarter customer traffic in flooring retail stores dropped significantly and the commercial business declined as businesses reduced investments. Price increases announced in the third quarter were implemented but material costs escalated higher and remained longer than we had anticipated. Through the first quarter, we will see the affects of high cost material purchases with our FIFO inventory.

We permanently closed a number of manufacturing and distribution assets in the fourth quarter to align with present conditions. Many cost initiatives to reduce infrastructure and improve productivity were implemented during the quarter. Our team was successful in reducing manufacturing and logistics costs as well as inventory levels. Our polyester carpet products are improving their position in the market as consumers favor more value oriented options. We completed the redesign and launch of our new wood product line and are broadening our customer base.