Q4 results tilt full year financials of Quaker Chemicals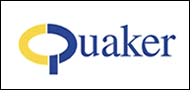 Quaker Chemical Corporation announced net sales for the fourth quarter 2008 of $116.2 million, and a net loss of $2.7 million, or $0.25 per diluted share. Included in fourth quarter 2008 results is a pre-tax restructuring charge of $2.9 million, or approximately $0.18 per diluted share.

Michael F. Barry, Chief Executive Officer and President, commented, "After starting the year with three strong quarters of sales and profits, 2008 finished with disappointing results due to a dramatic falloff in customer demand around the globe and continued raw material price escalation in certain regions. However, we have taken aggressive actions to reduce our cost structure given the market realities we are facing. In addition, we have recently amended our credit facility to provide more financial flexibility during this uncertain period."

Mr. Barry continued, "We expect our overall demand for products to be lower in 2009 as a result of the global recession with gradual improvement in our volumes as the year progresses. Fortunately, we entered this significant downturn at the end of the third quarter with a strong balance sheet position as our net debt level was at the lowest point since 2005. While 2009 will be a challenging year for Quaker and our customers, we remain confident that our business model, strong associate base, key growth initiatives and solid balance sheet will get us through this difficult period in a profitable manner and position us well for the future."

Fourth Quarter Summary:
Net sales for the fourth quarter were $116.2 million, down 18% compared to $142.4 million for the fourth quarter of 2007. The decrease in net sales was primarily due to volume declines in all of the Company's regions, as the global economic downturn began to impact the Company. Volumes were down approximately 25%, which were partially offset by a favorable 11% in selling price and mix. Selling price increases were realized, in part, as a result of an ongoing effort to offset higher raw material costs. Foreign exchange rate translation also decreased revenues by approximately 4%.

Gross margins were down approximately $15.5 million, or 36%, compared to the fourth quarter of 2007, reflective of the above-noted volume declines. The gross margin percentage of 24.2% was also lower than the fourth quarter 2007 gross margin percentage of 30.6%. The decline in gross margin was primarily related to continued high raw material costs which were only partially offset by higher selling prices. The remaining decline in gross margin percentage was due to the impact of manufacturing and other costs being spread over reduced volumes, as well as product and regional sales mix.

Selling, general and administrative expenses ("SG&A") decreased $8.7 million, compared to the fourth quarter of 2007. Investments in higher growth areas were more than offset by significantly lower incentive compensation, lower commissions on lower sales, as well as favorable foreign exchange rate translation. SG&A as a percentage of sales decreased to 23% compared to 25% in the fourth quarter of 2007.