19 diverse objects of textile arts to be featured at Recent Acquisitions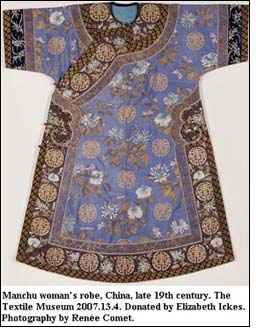 Outstanding textiles added to The Textile Museum's collection over the last five years will be on view in Recent Acquisitions from March 6, 2009 through January 3, 2010. The 19 diverse objects featured in the exhibition, including clothing, bags, rugs and furnishing fabrics drawn from several continents, were selected by Textile Museum Director Daniel Walker to represent the breadth of the museum's collection, which spans centuries and cultures.

In showcasing new additions to the Museum's holdings, Recent Acquisitions celebrates The Textile Museum's active role as a leader in the collection and appreciation of the textile arts. ?This exhibition demonstrates that The Textile Museum is a vital institution, one that continues to grow and evolve each year," said Walker. "Through donations and special purchases, our world-renowned collection is constantly enriched."

Exploring connections in art, culture and history, The Textile Museum is a unique institution with an acclaimed collection of nearly 18,000 handmade textiles from around the world. This collection is fundamental to the Museum's mission of expanding public knowledge and appreciation of the artistic merits and cultural importance of the world's textiles. Some of the objects in Recent Acquisitions, like a 19th-century Chinese robe, were chosen for their rich colors and patterning, while others were selected because of their unique cultural importance.

The Textile Museum was established in 1925 by textile collector and connoisseur George Hewitt Myers with a collection of 275 rugs and 60 related textiles. Since its founding more than 80 years ago, the Museum has expanded its collection to the rich compilation of nearly 18,000 textiles in its holdings today. In accordance with the parameters first set forth by its founder, the Museum has focused its efforts on collecting handmade textiles from indigenous cultures in Central and South America, the Middle East, Central and Southeast Asia, China, and beyond.

Each year the Museum's curators review objects for donation or purchase to determine their suitability for the collection based on the objects' cultural origins, quality, state of preservation, place in the standing collection, provenance or history and legal history, and relevance for research, publication and exhibition. The objects the curators choose to recommend are presented to a staff committee and then, if approved, to the Museum's Board of Trustees for a final decision.

Recent Acquisitions presents a special opportunity to see new additions to the collection – an infrequent occurrence because of the depth of the Museum's holdings and the Museum's stringent collections care and management policies. The Textile Museum's conservation standards require that each textile presented in an exhibition be returned to dark storage for five years afterwards so that it will be preserved for future generations of Museum visitors. That makes each appearance of a textile an uncommon opportunity to share in its history.