'New opportunities will enhance our market position' - Lenzing Chairman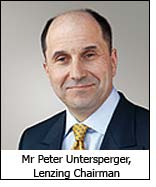 The Lenzing Group made good use of business year 2008, a year characterized by volatiland the deepening g financial crisis, to further extend its position as world market leader in ellulose fibers.

According to preliminary figures, consolidated sales rose by 5.4% to EUR 1.33 bill. (2007: EUR 1.26 bill.), EBITDA declined by 12.4% to EUR 200.8 mill. (2007: EUR 229.3 mill.) and EBIT fell by 19.7% to EUR 130.3 mill. (2007: EUR 162.3 mill.). Net income declined by 33.1% to EUR 77.7 mill. (2007: EUR 109.6 mill.). In view of the uncertain economic development in the current business year, the management board will decide on a dividend proposal at a later.

Peter Untersperger, chairman of the management board and head of finance comments: "We made optimum use of business year 2008 despite the difficult economic environment with its very different conditions and achieved the second-best EBIT result in our corporate history. Inthe first two quarters the company benefited from the very good market situation created by the 2007 fiber boom. In the third quarter, the global economy clouded over & affected our business development. We countered this trend with innovative products quality service to our fiber customers second to none and by our lead in cost efficiency".

Segment Fibers – the biggest segment of the Lenzing Group with a share in sales of over 80% – raised sales by 3.6% to EUR 1,107.9 mill. (2007: EUR 1,069.5 mill.) Segment EBIT declined to EUR 118.1 mill. (2007: EU to ns (2007: 523.100 tons).

Friedrich Weninger, member of the management board, on the current development of the company's key fiber segment: "Lenzing in 2008 further expanded its position as the global market leader in cellulose fibers by increasing production and by further optimizing its proportfolio with a high share of up-market and top-market fibers, such as Lenzing Modal, LENCEL, Lenzing FR and other special fibers."

According to Friedrich Weninger, Lenzing's products enjoy very high market acceptance because of the company's delivery reliability and its lead in product quality, especially in difficult times. The ecological excellence of TENCEL and Lenzing Modal opened new opportunities of cooperation with producers of global brands and the quality of Lenzing's fibers for home textiles enabled cooperation with global retail trade partners. The markets recoLenzing's cellulose fibers also as excellent products in terms of sustainability. They are therefore prepared to pay premiums. Lenzing's flame retardant fibers (Lenzing FR) for protective wear for the crude oil and plastics Industry and uniforms for the US Armed Forces met with increasing Success.

In Nonwovens, the company improved its market position by implementing its segment strategy of creating an organizational structure closer to its markets. Moreover, its nonwovens applications benefited from the general consumer trend towards ecological products. To add, products such as fibers for hybrid drive electronic components made this segments an important to niche industries with strong growth potential.