Techtextil NA represents all vertical aspects of technical textile industry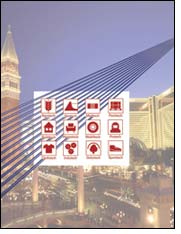 Leading technical textile and nonwovens companies from around the world will showcase the latest products and advanced technologies in textiles, nonwovens and materials during Techtextil North America 2009.

Techtextil North America represents all vertical aspects of the technical textile industry from research and development, through raw materials and production processes, to conversion, further treatment and recycling.

Some of the highlights of the 2009 exhibit hall will include:
• AccuSentry who will feature the SentryPoint Management Reporting System (MRS) for its flagship Sentry 9000 system. The Sentry 9000 system delivers a complete integrated machine vision solution for automated 100% Product Inspection for continuous web, sheet, and surface inspection. The SentryPoint MRS allows management to access key real time actionable production and inspection information from virtually anywhere with secured web-based interface. The SentryPoint supports machine, line, plant expansion to accommodate manufacturing growth.

• Apex Mills Corp delivers application driven fabric solutions in response to customers' needs and newly arising opportunities. Their far reaching expertise has been achieved by supplying Mesh, Netting, Spacer fabrics and Tricot knit solutions to an ever expanding array of consumer, industrial and government related industries for over sixty years. Adding to a wide ranging selection of nylon and polyester fabrics, they are introducing innovative fabric solutions featuring Nomex, antimicrobial, moisture management, basalt, ePTFE tm and polyethylene yarns. These leading edge performance fabrics are designed to address new challenges in the military, architectural and geo-textile sectors.

• Balkan Textil is a Turkish manufacturer of high quality, economical machinery for the recycling of nonwovens, waste yarns and materials. Balkans new mini-trim selvage machine offers mills an opportunity to save excess material, save money and help the environment by drastically reducing waste.

• BRISTEX brand technical fabrics are supplied to a wide variety of industry users who require highly functional fabrics for waterproof breathable applications. In addition Bristex develops many new proprietary finishes which are utilized in functional programs from high aerobic sports to shelters. Products range from light weight packable shells for cycling and running to two and three layer waterproof fabrics for snow sports. Exclusive patented technology to the Bristex brand includes: (DNS) Dual Nano System Technology and Repeloff Nano Super DWR.

• Colotex Industrial Co., Ltd. will be introducing their X-odor fabric at the show. X-odor has anti-odor, anti-bacterial, anti-fungal, UV protection and static-less functions. The distinguishing feature of X-odor is that all of these performance attributes are properties of the yarn and are not due to finishing processes or treatments which means it is permanent and chemical-free.