'Pay enough attention to carpet industry' - CRI to Congressmen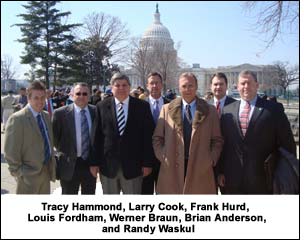 On March 4 & 5, CRI hosted the annual Government Issues Committee visit to Capitol Hill and annual congressional reception saluting the Georgia Delegation. This year's reception, held in the Atrium of the brand-new Capitol Visitor's Center, was the most highly-attended reception in the event's five year history.

Guests from both the House and Senate sides enjoyed food from Chick-Fil-A. After checking with the Ethics Committee, an area rug manufactured by Mohawk Industries was given to each guest on the house side and to Senators Isakson and Chambliss for display in their offices.

CRI president Werner Braun was joined by CRI vice- president and COO Frank Hurd and government issues manager Jenn Mendez. Tracy Hammond, from Government Affairs strategy and management firm Dutko Worldwide, which is helping CRI in its efforts, joined the group. The following CRI-member company representatives and guests were also in attendance:

• Brian Anderson, President, Dalton-Whitfield Chamber of Commerce
• Larry Cook, Beaulieu Group (Chair of the CRI Government Issues Committee)
• Louis Fordham, J & J Industries
• Jim Lucke, Mohawk Industries, Inc.
• Randy Waskul, Mohawk Industries, Inc.

CRI members met with Georgia Senators Chambliss and Isakson, Congressmen Deal, Gingrey, Kingston, and Lewis, as well as staff from the offices of Representatives Barrow, Marshall, and Linder, and Senators Shelby and Corker.

During the meetings, the CRI group discussed topics of importance to the carpet industry. Of primary concern was the U.S. economy. CRI representatives clearly outlined how the carpet industry is suffering, with residential sales hard-hit by the slowdown in the housing market. Coming from Dalton, historically a stronghold of manufacturing jobs, the group also made it clear that Congress, and the nation at large, is not paying enough attention to losses in the manufacturing sector!

CRI president Werner Braun said this year's trip to Capitol Hill was challenging, but productive. On issues such as the Employee Free Choice Act, where the CRI group knew they would meet opposition from some legislators, Braun said members were at least able to offer input on ways to reduce the negative impact on industry. On other issues, like the Home Furnishings Tax credit, the group received enthusiastic support from Democrats and Republicans, Braun said. About the carpet industry's efforts, Senator Chambliss told the group, "I've been to Dalton, I've seen what your industry is doing and you should be applauded".

"It was encouraging to have the involvement of so many members and friends of the carpet industry," said Braun. "If interest continues, next year we can divide into two teams and visit twice as many legislators."

On the Agenda
The following discussion topics are taken directly from the list of "talking points" members used during their meetings with lawmakers.