Imports of Chinese textiles previously under quota soar sharply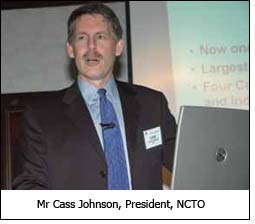 Trade figures released by the Department of Commerce on Friday showed imports of Chinese apparel removed from quota on January 1st are soaring as China slashes prices to gain market share. The figures come on the heels of recent job figures that showed U.S. textile and apparel jobs losses increasing dramatically.

The Commerce data showed that in January, imports of apparel products formerly under quota, like Chinese trousers, underwear and shirts, increased by 36 percent despite sharply falling retail markets and overall import declines. The quotas on China were lifted on January 1st. As the same time, Chinese exporters slashed prices by as much as 20 percent in order to increase market share.

NCTO President Cass Johnson stated, "As subsidized Chinese exports pour into the United States, we are witnessing a new wave of textile and apparel closures in the United States. Twenty thousand textile and apparel jobs have been lost during the first two months of the year. This is the human cost of the lack of trade enforcement in this country.

We call upon the Obama Administration to begin its monitoring program, as promised last October, as soon as possible." Johnson also noted that the Omnibus Appropriations bill, HR 1105), passed last week orders the government to monitor textile and apparel imports from China and Vietnam.

"China maintains at least 63 subsidies that support its textile export sector and the Chinese government starting pumping billions of dollars of new subsidies just prior to U.S. quotas being removed. This predatory action was in direct contravention of China's recent G-20 statement that it would not introduce new protectionist measures."

Other data that was released on Friday showed the China threat increasing as well. Preliminary import data posted by the International Trade Commission through March 7th shows that Chinese market share in the key apparel safeguard categories has increased by 4.4 points or 42 percent since quotas were removed.

Johnson added, "The preliminary data, which the Ways and Means Committee request last year made possible, indicates that the January figures are most likely not an anomaly and instead are a sign of a building surge of subsidized imports. Our government needs to be prepared to take action quickly if this is the case."

The textile safeguard quotas on China were lifted on January 1st under WTO rules and cannot be re-introduced. Recent countervailing duty and dumping cases on textile products, as well industry investigations, reveal that China continues to heavily subsidize virtually the entire textile supply chain.

These subsidies include financing, land, privatization, raw materials, energy, research, capital investments and marketing costs. Last December the United States filed a case at the WTO against China on over a dozen textile and textile related subsidies which are WTO illegal. Since joining the WTO in 2001, China has refused to publish a list of subsidies granted by the government despite WTO rules requiring it to do so.