Vegetable-based PureTemp Technology for textile industry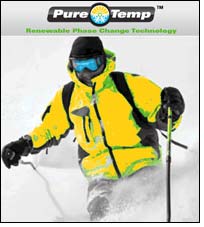 Mom was right: veggies are good for you. What she didn't know was that vegetable byproducts can reduce home energy usage by 30 percent, provide protection for police and military officers working in extreme heat and keep pharmaceuticals at a consistent temperature during shipment.

It's true. PureTemp, launched by Minneapolis-based Entropy Solutions, is a specially engineered vegetable oil derivative that controls temperatures to extremes - as cold as dry ice, as hot as coffee- for extended periods of time. PureTemp is the world's first and only 100 percent renewable, biodegradable and environmentally friendly material to answer age-old issues concerning temperature control and maintenance.

PureTemp, available in liquid, micro-encapsulated and macro-encapsulated forms, has myriad applications in the shipping, textile, healthcare and energy industries - anywhere strict temperature control is required.

"We use PureTemp to 'power' our Cool Vest products, which keep military and police personnel at a comfortable temperature when working in intensely hot environments," said Ray Booska, president of Glacier Tek, Inc., based in West Melbourne, Fla. "PureTemp enables our Chilly Dog vest to do the same for working dogs who must stay cool to maintain a sharp sense of smell."

Entropy Solutions' own GREENBOX Thermal Management System, a reusable shipper designed to transport temperature-sensitive pharmaceuticals, biologics and blood products, also uses PureTemp as its "secret sauce" in maintaining the box's payload temperature for more than five days.

PureTemp can also be used in the following ways:

In the textile industry:
• Apparel, footwear and outdoor gear can all be created with PureTemp, which will keep a person warmer or cooler based on personal preference.
• PureTemp "powers" cooling vests worn by Olympic athletes, which bring body temperature to optimal levels prior to or immediately following competition.
• Similarly, PureTemp can be used in vests designed for breast cancer patients, providing necessary cooling after radiation treatments.

In the healthcare industry: • In hospital care, micro-encapsulated PureTemp in bed sheets and mattress pads can help facilitate blood flow in bedridden patients. • In organ transplant procedures, PureTemp ensures vital organs make it from one hospital to another at the perfect temperature.

And beyond…

PureTemp can be incorporated into thermal coffee mugs that cool contents to a drinkable temperature quickly, and keep it there for hours.

In serving dishes for catering or in-home use, PureTemp can keep hot or cold foods at an appropriate temperature for long periods of time.

Executive perspective
"Given the Obama administration's focus on driving renewable solutions throughout various industries, PureTemp is right on the mark," said Eric Lindquist, president of Entropy Solutions. "We believe PureTemp has the potential to positively impact every aspect of a person's life - from the sheets you sleep in, to the car you drive, to the office building you work in - all the while, protecting the environment and providing economic opportunity to America's farmers."