Sales of organic clothing & textiles to reach £280 mn by 2012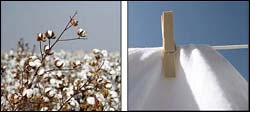 Statistics published by The Soil Association in February and March 2009 show no let-up in the financial downturn that has gripped the UK economy since last summer. In the past year GDP has fallen by 1.9%, unemployment has increased by 1.3%, and retail sales have dropped by 1.8%.

No sector of industry has been immune, however, to the chill wind of recession blowing since October 2008. Organic shoppers, like all consumers, have clearly been tightening their belts – by shopping less often, buying fewer premium products and prepared foods, and switching to lower-cost retailers. The overall growth in organic sales by value masks a net decline in the sales volume of a fair few categories of organic food products during the year. The picture is mixed, with dynamic growth in sales of organic food through farmers' markets and at Asda, as well as in some new, and still small, areas of organic sales such as textiles and health and beauty products.

Sales of organic cotton increased by 40%; total UK sales of organic clothing and textiles reached £100 million

The area of most striking growth in 2008 was in sales of non-food products. It is estimated that sales of organic clothing and textiles topped £100 million for the first time, with sales of organic cotton products increasing by 40%.

Sales of organic products are a fast-growing segment of the £30 billion UK clothing and textiles market, exceeding £100 million in 2008 for the first time. The UK makes up about 8–10% of the global organic cotton market.

Although precise figures are not available for the size of the UK market for organic cotton, best estimates point to sales of £60–65 million in 2007 and £85–90 million in 2008 – an annual growth rate of around 40%. When sales of other organic fibres such as wool and linen are taken into account, the market adds up to £100 million – a 25% increase on 2007.

Sales of organic clothing and textiles have increased more than tenfold since 2002. The current economic downturn is likely to cause a slowing of growth in 2009 and 2010. But it is forecast that the rate of growth will pick up again in two years and that sales will almost treble between 2008 and 2012, reaching £280 million.

Over 150 retail shops and over 250 web outlets now sell organic textile products in the UK. In an omnibus poll of over 1,000 people conducted by Market Tools in February 2009 on behalf of the Soil Association, 18.5% of respondents said they had bought organic clothing, bed linen or other products made from organic cotton in the past year. Among the organic consumers polled, the proportion buying these products was 24%.

Marks and Spencer and New Look
Marks and Spencer sold 1.1 million organic cotton items in 2008 – more than five times the volume sold in the previous year. It sees organic cotton as a 'gold standard' for sustainable clothing in the future alongside a more mainstream 'silver standard' – cotton produced under integrated pest management as a result of the Better Cotton Initiative.