New fabric that enhance sport performance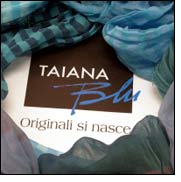 From now on we will forget that irksome wet effect of the swimsuit after getting out of the water. After 2-year-long research, the Tessitura Taiana from Olgiate Comasco (at the forefront for textile innovation since 1933) has developed the first water resistant fabric prototypes, as already requested by the most famous fashion houses all over the world.

This is the result of a research which originates from the world of extreme sport competition - says Matteo Taiana, Project Manager and Line Manager at Tessitura Taiana.

It forced us to tackle two urgent issues: on the one hand, the requirement of a swimsuit with permanent water-resistant effect, whose water-dynamics feature persists even after its regular and systematic use; on the other hand, the requirement for the strong stretchiness of the fabric, aiming at pressing and containing the athletes' muscles.

Fashion was just one step after the idea of Sport Performance and Taiana has simply applied this technology to the beachwear fabrics of the BLU collection, the long-standing product range of the company.

The manufacturing process does not involve any invasive treatment and, starting from the very raw fabric, is carried out through five different stages. An additional fashionable evolution of such a technology is the Phantom print, whose main feature consists in not being visible on the swimsuit before going into the water, but looking nice with different shades of colour after getting out of the water. An amazing effect: two swimsuits in one.

In 1933, in a small village around Como, Virgilio Taiana started his first loom. The location is propitious as the textiles tradition and culture of the area constitute an important heritage, unique in the world. A small industrial universe made of dyeing, printing and weaving machines. The key factors to this incredible economical result were the local people's talent, industriousness and creativity. 70 years after, the human values, the craft and cultural heritage that those people left behind, enable us to continue and extend their talent and work.

Tessitura Taiana Virgilio S.p.A.