BRÜCKNER to exhibit POWER-FRAME stenter at ITM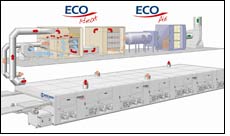 For six decades BRÜCKNER is worldwide well-known as supplier of efficient lines for the finishing of woven and knitted fabric. The owner-run company with domicile and production site in Germany will present on ITM 2009 from 6 to 10 June in Istanbul its comprehensive range of products and some new developments in the field of coating. We are also offering innovative energy saving systems which can reduce your energy costs and your emission values clearly. We will be glad to advise you – please contact us in Hall 5, Stand no. 510.

POWER-FRAME stenter – always a good decision
With innovative ideas we developed a new stenter generation. Our POWER-FRAME stenter satisfies highest performance and quality requirements with minimum energy consumption and offers many benefits for your success in the global market. It is our goal to provide technology, which helps you to gain competitive advantages in your business.

There are many good reasons to invest in a BRÜCKNER stenter, e.g.
• Highest drying performance thanks to the patented SPLIT-FLOW air circulation system
• Absolutely homogeneous distribution of air flow and temperature due to the alternating air flow in the thermo zones
• Extremely robust and low-maintenance chains, chain rails as well as pin bar carriers and clips
• Exactly reproducible finishing results thanks to full automation and the recipe administration of the line only to name a few.

ECO-HEAT & ECO-AIR – helps you to gain your competitive advantages
Using the BRÜCKNER ECO-HEAT heat recovery unit allows energy savings of up to 35% depending on the process. The low investment costs pay back in very short time. The modular design allows to retrofit also older lines and machines supplied by other producers. The low emission values of the BRÜCKNER stenters can be reduced even further with the ECO-AIR air purification unit.

Our scope of services in this field comprises also all services such as analysis of the exhaust air situation, establishment of a specification, analysis of the energy potential, capture of the pollutant flows, etc.

Our team of engineers and process engineers will be glad to develop an individual solution for your needs. We are looking forward to your enquiry!

Coating unit OPTI-COAT - innovation in the direct coating of knitted fabric

The market of functional textiles for sport and outdoor has grown considerably in the last years. The so-called breathable garments are characterized by the following features: water-tight, windproof, breathable, thermoregulating, dirt-repellent, flame-resistant, UV resistant, warming in cold weather, antimicrobial, etc.

Functional textiles established themselves mainly in the field of woven fabrics since these are characterized by a high dimensional stability and can therefore be easily coated directly. Knitted fabric, however, is very elastic, almost not dimensionally stable and can be coated therefore only with difficulties.