'only in New York' at Home Textiles Market Week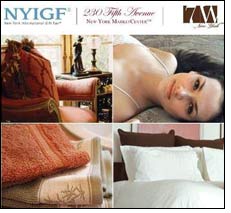 A full slate of activities, including topical seminars and events unique to New York City, will augment Home Textiles Market Week's resources and enhance the market experience for attending retailers. The semi-annual market for mid-to-high-end home textiles – produced cooperatively by GLM, a dmg world media company, 230 Fifth Avenue and 7 W New York – runs Friday, August 14, through Thursday, August 20, 2009.

Home Textiles Market Week opens at 7 W New York on Friday, August 14; and at 230 Fifth Avenue and the New York International Gift Fair (NYIGF) at New York City's Jacob K. Javits Center and Passenger Ship Terminal Pier 94 on Saturday, August 15. More than 500 suppliers of luxury home textiles will participate in the Market – the United States' largest collection of better home fashions resources.

"Now more than ever, retailers want to make the most of their investment in market week," said Dorothy Belshaw, NYIGF director and GLM senior vice president. "This summer, they will have access to business-building seminars, exciting 'only in New York' after-hours events and a host of amenities and promotions to enhance the market experience."

Educational Seminars
Retailers can extend the market's value with educational seminars addressing a wide variety of retail issues and opportunities. Topics include color trends, sustainability, social media marketing and best business practices during a slow economy.

One of the program highlights is The Influence of Color, an in-depth exploration of color and its impact on buying trends, hosted by the New York Chapter of The International Furnishings and Design Association (IFDA) on Monday, August 17, from 9:00 – 10:30 am, at NYIGF. During the session, co-presenters Sara Mosley and Fran Sude from Design-Options will discuss color and fashion's key influences as well as other color insights and Deborah Sanders, managing editor of Veranda magazine, will address the use of color in the home.

Special Events
Several only-in-New York after-hours events are planned for market week, including Gifts & Decorative Accessories' 58th Annual Retailer Excellence Awards recognizing excellence in retailing and individual achievement, on Sunday, August 16; 7 West's Hawaiian Luau reception featuring live island music, hula dancers, tropical drinks and a drawing for a Hawaiian Vacation for two on Monday, August 17; and NYIGF's "A Night on Broadway" featuring specially-priced tickets to hit musical West Side Story on Tuesday, August 18. Details and tickets are available at nyigf.com/programs.

As an added benefit, market participants are invited to visit The Museum of Modern Art (MoMA), the foremost museum of modern art in the world throughout the week at no charge, compliments of NYIGF, 7 West New York, 230 Fifth Avenue and 41 Madison.

"Best New Product Awards"
The Home Textiles Market Week Best New Product Awards will return to recognize product excellence in four categories – Bed, Bath, Dining and Home Accessories – as well as one overall "Best of Market" distinction. Winners, selected by a panel of trade and consumer editors, will be announced on Tuesday, August 18, at NYIGF.