34th Intl Fur Fair of Kastoria ends on good note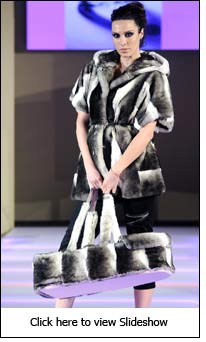 The International Fur Fair of Kastoria is a great event not only for Kastoria, the primary source of fur in our country, but also for Greece as a country, visited by interested buyers from all over the world.

Every year, the interest of traders and visitors from around the world grows, as, apart from their obvious know-how, the furriers of Kastoria and Siatista follow the latest fashion trends in fur, leather, and, in collaboration with famous designers, present the best that the fur market has to show.

For another year, furriers of Kastoria and Siatista treated the public to unique creations of unparalleled taste and style. Collections inspired by the eclectic finesse and style that befits the valuable fur materials captured the heart of a demanding public, proving that elegance and good taste are inextricably linked with high quality and style.

Creative designs, innovations in seams and a combination of classic and modern elements set the tone for established collections, classified in the demanding level of high fashion. Exquisite coats, jackets and accessories of mink and fox fur, zibeline, chinchilla and more, made with astonishing technique, presented by Ms. Maria Stamateris and various top models, showed the new fashion trends to the numerous guests.

The Fashion Gala held on the opening day - May 7 2009 - at 21:00 in a hall of the LIMNEON RESORT & SPA Hotel, presented a series of glamorous collections. A Cocktail Party for select guests was organised after the demonstration. The following businesses participated in the Gala: BY LAZAROS, FINEZZA FURS BY M.P.G, KALLISTHENIS IRAKLIS, IMPERIA FURS AND LEATHER, LUXOR, MANZARI INTERNATIONAL, N. KATSOGIANNIS & CO, PANIDIS BROS, SARIGIANNIS FUR FASHION, VERSAVI, VLACHOU BROS. The innovative designs, refined design concept and modern fur processing techniques fully met the high expectations of traders and buyers.

Opening the Gala, the President of the Kastoria Furriers' Association (KFA), Mr. Iraklis Kallisthenis thanked the sponsors who helped to organize the exhibition and promised that the 35th International Fur Fair, in cooperation with the municipality, the Chamber and the E.DI.KA, would cater for even more exhibitors, in a larger exhibition center, with an added capacity of more than four thousand square meters, in an area that can meet the demands of the furriers' art and their products, as the 34th IFFK proved that the existing exhibition center is not sufficient to meet the needs of the exhibition.
Finally, he thanked the exhibitors who, despite the economic crisis, attended and promoted this year's exhibition. The Fur Forum was held Saturday 9 May 2009 by the KFA "Prophet Elias" in cooperation with the Greek Fur Center. The speaker, Mrs Aspasia Vlachvei, Associate Professor of the TEI of Western Macedonia, said, inter alia: "Production of fur skin in West. Macedonia covers a large part of world supply (12%) and provides 30% of fur products.