'We are putting thrust on bivoltine sericulture' - Chairman, Silk Board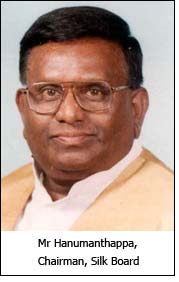 The silk industry has been flourishing in India since the time a young Chinese princess smuggled silk cocoons into India hundreds of years ago. The silk sector has witnessed a multitude of tribulations in the interim and it seems to be gradually losing its sheen and pristine glory.

Provisional figures for 2008-09 released by the CSB indicate that mulberry production has fallen from 16,245 metric tons in 2007-08 to 15,600 metric tons in 2008-09, though, there was significant increase of 33 percent in Vanya silk production in 2008-09 which stood at 2,760 metric tons when compared to 2,075 metric tons in 2007-08. The overall raw silk production grew marginally by just 40 metric tons from 18,320 metric tons to 18,360 metric tons.

However, silk exports from India grew at a healthy rate in the first nine months of 2008-09. In dollar terms, it grew from US $470.86 million in the first nine months of 2007-08, to $529.98 million in the same period of 2008-09, to register a growth of 12.6 percent. The notable product which recorded high growth rates were silk readymade garments with a 31 percent growth rate, while exports of carpets and silk waste slipped by 45.7 percent and 53.5 percent respectively in the same period.

To know the actual condition of Silk Industry in India, Fibre2fashion spoke to Mr H. Hanumanthappa, Chairman of Central Silk Board (CSB). CSB was established in 1949 as a statutory body under Govt. of India and is a national organization for overall development of sericulture and silk industry. It functions under the Union Ministry of Textiles.

We began by asking him as to why the Indian silk industry has not grown at a healthy rate when compared with the growth achieved by China to which he replied by saying, "China has the advantage of cheap and skilled labour and China was under a regiment rule for a number of years and quite recently the regimentation has been diluted, as such China has a disciplined labour force and are sincere in their efforts with an absence of organized unions. Cost of production is also low in China because of developed infrastructure and sufficient investment on capital machinery".

He continued "The sharp appreciation in the rupee vis-à-vis dollar witnessed in the year 2007-08 has resulted in a fall in silk exports from India and even as the appreciating rupee was making the country's exports uncompetitive, exporters are being further burdened by high production costs caused by high interest costs, pressure on prices and growing costs of inputs. India is facing tough competition from China in respect of exports after liberalization of quota restrictions".

"The consistently undervalued Yuan had led to China's strong presence in silk textile trade in major markets namely USA and European countries and 'Non Tariff Barriers' like formation of trading blocks like EU, NAFTA (North American Free Trade Association), and stringent environmental regulation of the importing countries are the main bottlenecks in a healthy growth of silk exports", he concluded by saying.