Intertextil Balticum - amazing gala show of bridal gowns!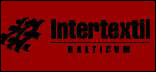 The 15th International Exhibition of Textile, Clothing, Leather Garments and Production Equipment "Intertextil Balticum 2010", a fashion industry trade fair introducing the latest fashion trends an offering ready-to-wear clothing, underwear, accessories, home textile, supplies and production equipment, will take place at Kipsala International Exhibition Centre, Riga, Latvia from 9 to 11 April next year.

Intertextil Balticum – one of the leading fashion industry exhibitions in the Baltic Region
"Intertextil Balticum" is one of the significant textile industry events in the Baltic Region and attracting interest of ever growing number of foreign manufacturers. The number of foreign visitors and their interest in new partners for cooperation in Latvia and other countries of the Baltic Region have significantly grown. The exhibition promotes textile industry enterprises regionally & internationally, stimulates business development and boosts sales of participating enterprises. "Intertextil Balticum 2009" presented more than 130 brands from 24 countries and gathered 94 participants representing such countries as Latvia, Lithuania, Estonia, Italy, Greece, Russia, Pakistan, Poland, Syria, Slovakia and Ukraine.

Latvian designers, individual enterprises and boutiques also introduced new and unseen clothing concepts. Exhibition presented original clothing ideas of Latvian designers – trendy linen women's clothing , men and women's clothing , absolutely innovative T shirts "Numbers", author collections RECYCLED.LV created for people who care for environment – employing imagination, designers have created new and original clothes from older ones. The exhibition presented a large assortment of cotton, linen, fulled and woollen yarns , as well as handcrafted products from natural materials.

Attendance in three days of the exhibition reached 10,202 visitors of which 14% were manufacturers, 3% – wholesalers, 9% – distributors, 21% – specialists. Registered trade and business attendance summed up to more than 2856 visitors of which 4% were trade and business visitors from such countries as Italy, Sweden, Russia, Poland, Lithuania, Estonia, Finland, Greece, Slovakia, the Netherlands, Turkey, Belgium and other countries. Participants of the exhibition positively evaluated contacts with local customers and foreign companies from Italy, Sweden, Russia, Poland, Lithuania, Estonia and other countries established during the exhibition that will be a ground for a perspective cooperation in the future.

During "Intertextil Balticum 2009", the discussion "Trade and manufacturing development under current economic conditions" was held with participation of Latvian & foreign manufacturers, Diplomatic economic Club (DEC), an association uniting officials of foreign diplomatic and trade missions accredited in Latvia. Participants of the discussion talked about their international experience & practical cooperation to facilitate international trade relations.