Whites of London offers over the top opulence in home furnishings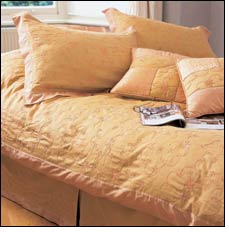 Home textile has proved that it is one of the promising sub sectors of textile industries. People now days with an increasing level of disposable incomes not only spend on their basic needs, but also dress up their homes with beautiful home décor items and before doing so, want to know the current trends, so that they may decorate their homes with the latest trends and take help of latest products.

To get the latest trends and home decor tips, we spoke to none other than Mr Sajid Dehlvi, CEO of the Indian operations of 'Whites of London'. Whites of London is a UK based manufacturer and supplier of fine quality embroidered bed linen and home accessories to leading retail outlets around the world. At Whites of London, they offer bed linen in superior 100 percent combed cotton and 200 thread count percale for maximum comfort, luxury and durability.

To begin with we asked him to articulate on how to bring home these new trends to which Mr Dehlvi said, "The trends keep changing season to season and it's impossible to keep up with them and change the complete look of your house every six months. Some handy tips to incorporate the latest trends without being too extravagant in spending money or time could be to change a few cushions in the room or curtains. With spring-summer use of whites, pinks, pastels, blue's etc is more common and with the autumn browns and gold's are more suited. Adding a rug could also help".

Next we asked him to speak forth on latest trends in bed linen/ bed spreads? To which he said, "The bedroom is all about comfort and luxury. WOL offers its bedding collection in a mixture of styles from 'traditional classic' yet 'contemporary' to 'country cottage' and 'over the top opulence'. Imbued with exotic detail, the look is more layered, thus cover your bed with the exclusive collection of delicately embroidered duvet covers, quilted bedspreads, exotic sheets/pillow covers and decorative cushions. So in this coming season create a bedroom that you will enjoy by selecting a style that is an honest reflection of you!"

We than asked him to tell us about the different fabrics used nowadays, to which he explained by saying, "'When it comes to selecting bed linen, the general rule is that it must feel good against the skin. The softness of the fabric makes all the difference, which is why WOL specializes in bedding made from soft, natural materials. While many synthetic materials retain moisture and oil, natural fibers such as silk, linen and pure cotton draw moisture away from the skin, dry quickly and feel soft, therefore encouraging sleep. WOL's range encompasses a range of styles, and features a number of accessories, such as sheets, duvet sets, pillowcases, bedspreads and bath ware in 100% cotton".

Then we asked him to tell us about the prevailing colours in the Spring/Summer collection 2009, to which he replied by saying, "The spring '09 color palette perfectly reflects the cheerfulnessof the season with refreshing splashes of fresh brights, as designers offer endless exploration and creative combinations. Variations on popular colors such as energizing red, cool waterborne blue and eco-friendly greens will play a key role this coming season. Stabilizing neutrals are also combined with pops of brighter colors to create unique, distinctive looks".