ELMARCO inks wound care development deal with HemCon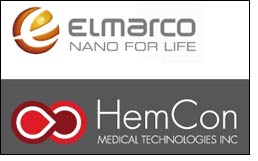 ELMARCO s.r.o., a global producer of machinery focused on industrial scale nanofiber production, and HemCon Medical Technologies Inc., a leader in the development of advanced medical products and technologies, announced an exclusive partnership agreement to develop and commercialize products manufactured using the ELMARCO Nanospider platform for the wound care market.

Through this collaboration, HemCon will be the sole channel through which the ELMARCO Nanospider manufacturing platform will be utilized for the global wound care market, valued at an estimated $5.5 billion.

As exclusive partners, HemCon will provide product development scale up and design transfer expertise and ELMARCO will offer its proprietary platform, Nanospider for manufacturing and the transfer of technology within the field of wound care.

Nanospider machines offer production level manufacturing of high quality fibers, unlike current electro-spinning processes, which create single nano-sized fibers at a time. The patented Nanospider manufacturing technology provides increased productivity and efficiencies while reducing raw material requirements, production time and labor costs. The use of nanofiber materials for wound care enables the creation of complex layered dressings that can include multiple therapeutic benefits in a single product. In addition, nanofiber materials offer more surface exposure of active ingredients, providing the opportunity to enhance and increase efficacy of new or existing products.

"ELMARCO is pleased to have chosen HemCon as its exclusive development channel for the wound care market. In working with HemCon we gain a significant business partner with whom we have a three year history in the wound care field," said the managing director of ELMARCO s.r.o., Mr. Ladislav Mareš. "Our company has successfully developed products with a range of global partners, like HemCon, and we have built a global, multi-dimensional network of products on our nanofiber technology platform."

"HemCon is pleased to partner with ELMARCO to bring true innovation to the wound care market. With ELMARCO's revolutionary Nanospider manufacturing, we will be able to work with our global partners to develop solutions that drastically improve the process of production, as well as the level of care we can offer patients," said the president and CEO of HemCon, John Morgan.

Elmarco s.r.o.