FICCI submits agenda for textiles industry to Mr Dayanidhi Maran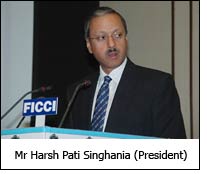 With India's textile exports to US falling by around 14% in the first four months of 2009, FICCI delegation led by its President, Mr Harsh Pati Singhania, met the Union Minister of Textiles Thiru Dayanidhi Maran to explain him the seriousness of the crisis in the sector.

FICCI submitted its comprehensive agenda for the textile sector to the Hon'ble Minister in which the industry body has emphasized the need for scaling-up the skill development initiatives in the textiles and garments sector and also the need for increasing Duty Drawback rates for the textiles sector by at least 5% to ensure that all duties (including local taxes) are reimbursed to the exporters.

FICCI said that textiles, which is the second largest employment generating sector in the country after agriculture, would require Mission Mode approach at a large scale to absorb 10 million people in the next five years. Hence, Government's skill development programmes need to be scaled-up to train at least two million people in a year.

In view of the weak demand in traditional markets like US and EU, FICCI suggested that Government should provide 100% risk coverage through cheaper ECGC (Export Credit Guarantee Corporation) for exports to other countries like Latin America, Middle East etc. FICCI further requested the Government not to consider any hike in Minimum Support Price (MSP) of cotton in the coming season and also expressed the immediate need for formulating comprehensive National Fibre Policy.

Some other suggestions given by FICCI were to restore temporarily (at least for next 2 to 3 years) 100% exemption of export earnings under Section 80HHC of Income Tax Act and provide export credit at 7% (the rate at which agricultural loans are given) till 2010.

Also, FICCI said that in view of the tough competition in the shrinking markets abroad, Fringe Benefit Tax (FBT) on marketing initiatives and travel abroad should be withdrawn as exporters need to travel more frequently to their buyers under current circumstances. Government should make adequate allocation of funds under TUFS and ensure speedy clearances.

Immediate Measures Required
• Restore Drawback Rates that prevailed before September 2008 for all textiles and apparel products.
• Drawback Rates need to be hiked by 5% to ensure reimbursement of all duties on exports.
• Relook increase in MSP of cotton (40% in 2008-09)- No hike in MSP of cotton in the coming season.
• Withdraw export incentives for cotton under VKUGUY as given in February 2009.
• Provide export credit at 7% (as applicable to agriculture sector) at least upto 2010.
• Restore temporarily 100% exemption for export earnings under Section 80HHC of Income Tax Act.
• Exempt, instead of refund, exporters from service tax and TED.
• Exempt exporters from FBT.

Other Measures
• Skill Development in Mission Mode Approach
• Withdraw custom and excise duty on Furnace oil and HSD for captive power plants of textile and clothing units.