Daily worldwide cotton market report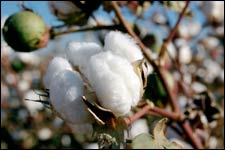 Last night in New York futures market, July 09 closed at 52.43 with a loss of 67 points the volume traded was 13754 contracts, the October 09 closed at 55.60 with a loss of 55 points and the volume traded was 463 contracts, while the December 09 closed at 57.74 with a loss of 48 points and the volume traded under December 09 cover was 10002. The cotlook A index declared settled at 60.55 with a decrease of 210 points today. Forward A Index is settled at 65.15 with a decrease of 220 points.

The spot rate of KCA moved once again and the settlement declared at Rs. 3400/= with a decrease of Rs. 50/= today. In the domestic market today 300 bales of Khipro sold at Rs. 3300/=, and 1000 bales of Duniya Pur sold at Rs. 3350/=. 200 bales of Rahim Yar Khan sold at Rs. 3575/=, and 400 bales of Rahim Yar Khan sold at Rs. 3550/=.

The USDA crop progress report released last night showed U.S. planting were 95% complete, which is equal to the 5-year average. Eight of the fifteen main cotton states stand at 100%. Georgia is 96%, matching its average. Texas is 93%, one point ahead of average, while Oklahoma is behind at 81% and Kansas at 84%. The Dow Jones condition summary showed the 15-state index at 90.8% of normal versus 90.7% the same week last year.

According to an article from The a local daily, the Commerce Department reported new construction of homes and apartments climbed 17.2% in May to a seasonally adjusted annual rate of 532,000 units. Economists were expecting a rate of 500,000 units after the April record low of 454,000 units. Applications for building permits were also up by 4% in May to an annual rate of 518,000 units. Although May's increase in housing construction was up 17.2% in May, it still leaves activity 45.2% lower than last year at the same time.

The daily further reported PPI was up by a seasonally adjusted 0.2% in May from April. This was below expectations of a 0.6% increase. Despite the increase, wholesale prices fell 5 percent in the past 12 months. That is the largest annual drop in almost 60 years.

According to estimates from U.S. shippers, this week's USDA weekly export sales should be in line with last week's figures. The range of increased commitments is between 100,000 and 150,000 bales.

The close below the 40-day moving average is an indication the longer-term trend has turned down. The downside crossover of the 9 and 18 bar moving average is a negative signal. The daily stochastics have crossed over down which is a bearish indication. Momentum studies trending lower at mid-range should accelerate a move lower if support levels are taken out. The close under the 18-day moving average indicates the intermediate-term trend could be turning down. The market is in a bearish position with the close below the 2nd swing support number.

Ghulam Rabbani & Co.