Dow Corning to double number of silicones available on online 'XIAMETER'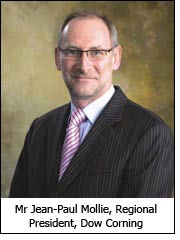 Mr Jean-Paul Mollie, the Regional President for Middle East, South Asia and Africa at Dow Corning recently addressed a conference titled 'Transformation Launch' organised by the company at Mumbai, India. He said, "I was reflecting recently on how, at some point in the future, we will look back at this extraordinary moment in history and what we might remember about it. Certainly, we'll remember the challenges we have faced over the past months, the economic turmoil that is still reverberating around the world as we speak.

"Who could have predicted we would see such a rapid fall off in business in so many sectors? Or that it would impact so many parts of the world and that governments would announce substantial amounts of state aid to kick start their economies once again. Chemical Week reports that in India alone, the economic stimulus program includes $515 billion in infrastructure investments. Undoubtedly, we'll remember the way new economies have emerged onto the world stage.

"Only recently, the Economist opened a story about India with this comment: 'India's growing power will reshape the world as we know it. Across all measures of influence the country's clout will continue to strengthen'. I think too, we will remember how sustainability gained global momentum as the business world joined hands with governments, regulators and special interest groups in the quest to protect and preserve our planet for future generations.

India's growing commitment to sustainable alternative energy is reflected in the fact that investments in sustainable energy in India reached almost $4 billion last year, a rise of more than 10% over the previous year. But we know that every challenge presents an opportunity. That's how Dow Corning has operated for the past 65 years. We have constantly looked for – and found – opportunities. We've done this by feeding a passion for solving our customers' problems and helping them, in turn, deliver value to their shareholders and their customers.

We've done it by perfecting silicon science, creating new markets, and expanding into new geographies, growing significantly here in India and China, and building our business in Eastern Europe. But most of all we've done it by becoming experts in adapting to changing conditions, being resilient, always looking ahead, and innovating not only our products but also our business to best serve our customers.
Based on extensive research and analysis of customers' needs, economic indicators, and social and environmental trends, I am here today to announce that Dow Corning is transforming its business to help our customers to be more efficient, innovative, and sustainable.

"Dow Corning is announcing today the creation of the world's largest online marketplace for silicone materials. We introduced our online business model, the 'XIAMETER' brand, the first of its kind in the chemical marketplace. Today we are announcing a significant expansion of that business. We will more than double the number of standard silicone products available through our XIAMETER brand. We will also offer new payment and ordering options to help customers who do not need extra services or technical support. These changes will help companies in India who are looking for greater efficiencies in the way they purchase key raw materials.