Textile fabric acts as skin like barrier – BMW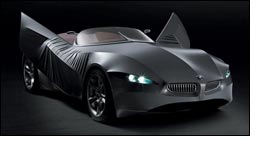 The expanded use of fabrics in modern vehicles for the replacement of conventional metal parts is increasingly being viewed as a way of reducing the weight of vehicles.

Nonwovens already play a vital role in interior comfort, reinforcement, sound insulation and advanced filtration, as is illustrated by the myriad products for the automotive industry displayed every three years at INDEX in Geneva

However, it is highly likely that – in combination with other materials – new uses will be introduced for nonwovens in the next few years with the express objective of shedding weight, and consequently reducing both fuel consumption and CO2 emissions.

Fanciful concepts such as the attention-grabbing 2008 BMW GINA and the latest KG-1 – exhibited recently in Amsterdam by the Dutch design studio KesselsGranger DesignWorks – are a direct result of this philosophy.

The GINA featured a fabric outer skin stretched across an adaptable frame of aluminium and carbon fibre so that the car's front and sides, including the doors, created a single uninterrupted, seamless piece.

In a radical break from tradition, the usual body elements found on production vehicles were dispensed with, and a new structure with a minimum amount of components took their place – a highly durable and extremely expansion-resistant fabric stretched across the metal structure.

This opened up new design potential, and some elements of the substructure could be moved with electro-hydraulic controls by the driver, changing the shape of the outer skin. The most striking example of this was the GINA's headlight design. When the headlights were not active, they were hidden under a special fabric cover. When turned on, the contour of the front end changed. Activated by the metal structure that lay beneath it, the previously closed fabric cover opened to the right and left of the kidney grille to reveal the double head-lights.

The turn indicators and the taillights also functioned without changes to the shape of the outer skin, but their position was only revealed on activation, with emitted light shining through a translucent fabric cover – permeable to light but not transparent.

The material employed had to meet exacting requirements and an industrially-produced hybrid fabric made from a stabilising mesh and netting support, a percentage of Lycra, and an outer layer that was both water-repellent and resistant to high and low temperatures was employed.

The fabric also had to remain dimensionally stable, irrespective of the temperature and air humidity it was exposed to, or after severe and constant expansion. The dimensional stability helped retain the cover's surface tension for a long period of time. Specialised BMW seat pattern designers were employed to cut the fabric webbing to size with maximum precision, determine the strategic position of attachment points and stretch the material.

The human body and anatomical functions were the inspiration for the 2009 KG-1, in which a mesh of protective fabric is again stretched around the composite frame like a second skin.