Top quality from sustainable production at Elastic Textile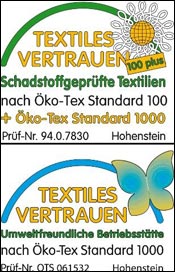 A real eye-catcher, and functional and comfortable as well! This lingerie and products for the sportswear and bathing costume industries use elastic fabrics made by Elastic Textile Europe GmbH. Since December 2008, the company's plant in Neukirchen, Hessen, has been using proven environmentally-friendly production methods to make quality products for many top of the line brand names such as Triumph, Felina, Chantelle, Aubade and Lejaby.

After two months of preparation, Elastic Textile Europe GmbH, or "Elastic" for short, was certified as an environmentally-friendly production site in accordance with the criteria set by the Oeko-Tex Standard 1000. Elastic may also mark its fabrics and lace with the Oeko-Tex Standard 100plus label, meaning the products have been both tested for harmful substances and produced in an environmentally-friendly way.

Founded as a family firm in 1958, the company currently led by CEO Falco Weidemeyer has an annual turnover of €22 million after weathering some turbulent economic times at the beginning of the century. Some 133 highlytrained staff working with state-of-the-art machines allows the firm to maintain its leading position in the sector, producing some 300,000 metres each month to offer a full spectrum of quality fabrics. Beyond the sought-after knitted fabrics for products such as sportswear and lace materials for lingerie, Elastic's product-range also includes technical textiles for medical applications, the automobile industry, exhibition displays and other industrial uses.

A high level of quality-consciousness and outstanding readiness to innovate are part of the company ethos at Elastic. Diversified technological equipment serves as the foundation for these characteristics. Circular knitting machines, warp and raschel knitting machines, and weftloc, rascheltronic and computer-controlled raschel lace machines are all used.

These machines enable Elastic to maintain high levels of output of guaranteed consistent quality while responding very quickly and flexibly to its customers' special needs. Illustrative of the tailor-made services Elastic can offer is the market launch of Triumph's Pure Origin line of lingerie, a co-operative project featuring organic cotton with a 20 percent Elastan content.

At the same time, both the raw fabrics that have been produced and the ready-made, finished knits are subjected to comprehensive quality control testing before they are delivered to the "top players in the international lingerie, sportswear and bathing costume industries in Europe, Asia and America". Quality assurance measures include continual monitoring the functional properties of the fabrics on the one hand, and checks of additional parameters such as colourfastness, durability, shrinkage, and workmanship on the other hand.

Falco Weidemeyer emphasises, "We aspire to make products with genuine technical and aesthetic added-value. Responsibility for the environment and our surroundings, in other words – ecological and social sustainability – play a particularly major role for us as well. That has motivated us to become one of the first in our sector to implement such criteria in accordance with Oeko-Tex Standard 1000 and 100plus." Documentation of successfully implemented environmentally-friendly production for consumers and traders is a logical step when sustainable production is viewed as contributing to success in that it sets a company apart from the competition.