British Wool to unveil stylish range of carpets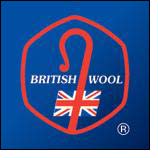 British Wool manufacturers will launch stylish new ranges and shades this September with carpet that showcases the beauty, diversity and durability of British Wool.

Only manufacturers licensed under the British Wool Marketing Board scheme are permitted to use the Shepherd's Crook symbol, guaranteeing that no less than 50% of the wool blend is British Wool grown on British sheep breeds in the United Kingdom.

Here's a selection….
Brockway Carpets – stand C13
Introduce new colours to their popular British Wool ranges –'Cresta' and 'Florian' – sumptuous, wool-rich tufted carpets and amongst Brockway's best sellers. Cresta available in 40oz and 50oz has 13 new colours added to give 28 colours. Florian in a luxurious 60oz now has 18 colours.

Cormar – stand A14
Introduce their 'Natural Berber Twist' Collection – made from 80% British Wool, 10% nylon and 10% tuftbond, it is available in 12 natural berber shades and comes in three qualities – Super (35oz per sq yd, Elite (45oz per sq yd) and Deluxe (55oz per sq yad).

The Natural Berber Collection is the fifth British Wool range in the Cormar portfolio.

Kingsmead Carpets – stand C16
Introduce 'Lothian' – an exceptional value range –in 80/20, 1/10th gauge British Wool/polypropylene available in 15 subtle, minimalist shades to blend with the latest interior trends. Available in 4 metre and 5 metre widths. 'Argyll' - - a finely crafted 1/8th gauge twist pile carpet in 80/10/10 British Wool/polypropylene/polyester (Kingloc). Boasting a pencil point finish to each tuft and a 12 shade colourbank based on a mineral palette. Available in three qualities (original, superior and ultimate) and in both 4 and 5 metre widths. 'Triple Twist Heathers' – the latest launch in the popular and successful Triple Twist family features subtly heathered blends in 20 natural shades with three quality options (super, elite and luxury). Kingsmead will offer a wear seal guarantee of up to 15 years with this product.

Manx Carpets – A23
Introduce the recently re coloured 'Ashworth' range in 80% British Wool and 20% nylon, following extensive customer research in to the colour palette to meet today's fashion trends.

Ashworth will introduce new shades such as Aubergine, Gentle Fawn, Steel Drum and Irish linen to complement the existing 11 colours. Ashworth still has 21 shades in super (40oz) and extra super (50oz) in either 4 or 5 metre widths.

Also 'Tuscany' an 80/20, 1/10th gauge British Wool range in both 40oz and 50oz available in 14 earthy shades. 'Causeway Twist' – an 80/20 British Wool range available in 3 weights, 4 and 5 metre widths and which is ideally priced to suit stockists and the contract market.

Ulster Carpets – stand C17
Ulster Carpets continue to innovate and their latest step forward is the newly installed wilton looms, with the capability of weaving 5 metre wide carpet for their Ulster Velvet and York Wilton ranges. They are the first carpet manufacturer to offer 5m wide premium quality, plain woven wilton carpets in the UK and Ireland.