Parkdale to acquire Hanesbrands Yarn Operations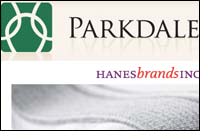 Hanesbrands Inc announced that it will cease making its own yarn because self-production doesn't provide a strategic advantage and will source all of its yarn needs from large-scale yarn suppliers.

As part of this strategy, Hanesbrands has entered into an agreement to sell most of its yarn manufacturing operations to Parkdale, a yarn manufacturer based in Gastonia, N.C., that will supply a substantial amount of Hanesbrands' Western Hemisphere yarn needs.

By outsourcing yarn production, Hanesbrands will create a competitive long-term supply of Western Hemisphere yarn at no material change in cost and expects to generate $100 million of balance sheet benefits within six months after the sale as a result of working capital improvement, reduced raw material requirements, reduced inventory, and sale proceeds.

The sale is expected to close in the fourth quarter of 2009 and would result in Parkdale operating three of the four Hanesbrands yarn production plants. Hanesbrands will close the fourth facility.

"We are focused on optimizing the investments we have made in our supply chain that give us a competitive advantage," said Chairman and Chief Executive Officer Richard A. Noll. "Producing our own yarn, when more than adequate large-scale supplies exist, serves no strategic purpose. Outsourcing yarn is a logical evolutionary step to drive value and improve the use of our assets."

Hanesbrands has restructured its supply chain over the past three years to create more efficient production clusters that utilize fewer, larger facilities and to balance its production capability between the Western Hemisphere and Asia. With its global flows coming on line, the company is now focused on optimizing its supply chain to further enhance efficiency, improve working capital and asset turns, and reduce costs.

"We are leveraging our assets in areas where we can differentiate ourselves and use our scale and expertise for better returns," said Gerald Evans, Hanesbrands' president of international business and global supply chain. "We are keenly focused on optimizing the working capital needs of our supply chain through several initiatives, such as supplier-managed inventory for raw materials, sourced goods ownership relationships and other efforts."

Yarn Operations

Under the agreement, Parkdale will take over operations of Hanesbrands yarn plants in Rabun Gap, Ga., Mountain City, Tenn., and Galax, Va., which have a combined 780 employees. Parkdale will supply Hanesbrands from those facilities and other existing Parkdale U.S. production plants.

Hanesbrands will cease new production immediately at its remaining yarn plant in Sanford, N.C. The production capacity of the Sanford plant, which has approximately 150 employees, is not needed by Parkdale to serve Hanesbrands' Western Hemisphere production needs. Hanesbrands will also close by the end of the year its cotton warehouse in Advance, N.C., and yarn warehouse in Clemmons, N.C., which have a combined 25 employees.