Exports of MMF textiles grow despite adverse conditions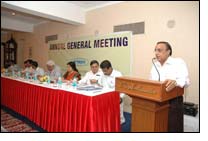 Shri Ganesh Kumar Gupta, Chairman of The Synthetic & Rayon Textiles Export Promotion Council, while addressing the 55th Annual General Meeting of the Council in Mumbai, informed that the exports of Indian Man-made Fibre Textiles were to the tune of US$3481 million (Rs.15,863 crores) during 2008-09; witnessing a growth of nearly 4% in dollar terms and 18% in rupee terms compared to that of the previous financial year, despite the adverse economic situation and contraction of demand in traditional markets. However, he added that the four percent export growth in dollar terms during 2008-09 was the lowest in the past six years.

Observing that the year 2008-09 was probably one of the most difficult years for global economy in recent memory, the Chairman of SRTEPC said that the failure of iconic financial institutions and collapse of capital markets resulted in an unprecedented economic crisis. Countries across the world had been affected in varying degrees and all major economic indicators like investments, industrial production, trade, capital flows, employment and consumption have taken a hit.

Shri Gupta said that though India had not been affected to the same extent as other economies of the world, India's MMF textile exports were adversely affected due to a contraction in demand in the traditional markets. The protectionist measures being adopted by some of these countries had also aggravated the problem.

During the first four months of 2008-09; (April to July 2008) exports had grown at an average of 40%. However, from August 2008 onwards, the exports declined and in September 2008, for the first time, exports of man-made fibre textiles entered the negative territory. Thereafter, there was continuous decline and during the last quarter of the financial year (January to March 2009), exports declined by over 22% and thus, exports of man-made fibre textiles could touch only US$3481 million. Exports of man-made fibre textiles grew by over 27% during 2007-08 compared to that of the previous year and successfully achieved an average Cumulative Annual Growth Rate (CAGR) of over 15% for the last 5 years.

During 2008-09, fabrics accounted for the 50% of total exports followed by Yarn at 26%, Made-ups 17% and Fibre at 7%. Fabrics, Made-ups and Fibre exports valued at Rs.7866 crores,

Rs.2661 crores and Rs.1169 crores witnessing growth of 43%, 16% and 3% respectively compared to that of the previous year. However, exports of Yarn declined by over 7%.

Exports of man-made fibre textiles were directed to 166 countries during 2008-09. Countries in Middle East/Gulf continued to remain the major markets during 2008-09 with a share of 32%: followed by EU with a share of 21%.

The UAE remained the top market for Indian MMF textile with exports worth Rs.2494 crores showing a growth of 24% compared to that of last year. Pakistan emerged as the 3rd largest market for Indian MMF Textiles with exportsof Rs. 832 crores during 2008-09 with an unprecedented growth of over 500%.Other leading markets during 2008-09 were the USA, Turkey, Afghanistan, Saudi Arabia, Brazil, Germany, U.K, Egypt, Italy, Bangladesh and Syria.