LifeNet made of polypropylene fiber to protect against malaria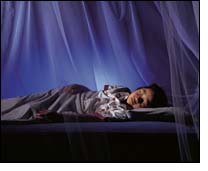 Researchers from Bayer CropScience are the first to have successfully incorporated deltamethrin, its WHO-recommended active ingredient, into polypropylene fiber. The result is a new textile fiber which can be used to manufacture mosquito nets that are softer, stronger and remain effective for longer. With these long-lasting insecticidal nets , Bayer CropScience wants to make an important contribution to vector control and thus help to stem the spread of tropical diseases such as malaria.

The new product, which will be sold under the brand name LifeNet, is expected to be launched on the market within the next few years. As a market leader in the non-agricultural pest control segment, Bayer CropScience supplies a large proportion of insecticidal active ingredients for the bed net industry.

The Bayer CropScience Business Operations unit Environmental Science will be presenting a wide range of highly effective products and innovative solutions at the 5th Pan-African Malaria Conference in Nairobi, November 2-6, 2009. The company will showcase its commitment to working together with the public sector to combat mosquito resistance to pyrethroid class insecticides. A symposium on Insecticide Resistance Management sponsored by Environmental Science, to be held on November 4, will bring together leading experts in this field. Discussions will focus on what needs to be done to promote further research into this important subject surrounding malaria elimination and vector control projects worldwide.

Bayer CropScience is the only company in the world with a full portfolio of vector control applications, including products for indoor protection against harmful insects, specialty products such as larvicides, and various technologies for the industrial manufacturer of Long Lasting Insecticidal Nets. As part of the conference exhibition, experts will present the full range of Bayer CropScience activities in the field of vector-borne diseases and will be available for in-depth discussions. Malaria researchers and experts in the field of vector control from all over the world will be taking part in this year's conference. They will include representatives of governments, health authorities, international organizations, private foundations, universities, research institutes and industry.

Climate change promotes spread of tropical diseases
According to World Health Organization figures, around 3.3 billion people, representing half the world's population, are living in malaria endemic areas. As a result of climate change, the incidence of vector-borne tropical diseases such as malaria, dengue fever and leishmaniasis are expected to rise. An increase in average temperatures of 1-2 degrees Celsius could lead to an additional 40-60 million people worldwide being exposed to the risk of malaria infection (transmitted by the Anopheles mosquito), because rising temperatures favor the survival of mosquitoes and parasite development for subsequent transmission.