'We're looking forward to a robust market this winter' - NYIGF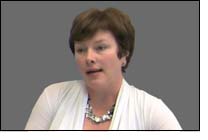 Building on the success of the summer 2009 market, the winter 2010 Home Textiles Market Week is offering a full slate of activities to complement product offerings at four locations throughout New York City.The semi-annual market for mid-to-high-end home textiles runs Friday, January 29, through Thursday, February 4, at the New York International Gift Fair(NYIGF) at the Jacob K. Javits Convention Center and Passenger Ship Terminal Pier 94, 230 Fifth Avenue and 7 West 34th Street.

"We're looking forward to a robust market this winter - from product offerings through to educational opportunities and after-hours activities," said Dorothy Belshaw, NYIGF director and GLM senior vice president.

The three New York Home Textiles Market Week entities offer venue-specific onsite buyer amenities, as well as a combined market directory listing all participants, free inter-venue shuttle transportation, and discounted travel and hotel rates.In addition, the New York Home Textiles Market Week "Best New Products" Awards will recognize select home textiles suppliers for excellence in four categories - Bath, Bed, Dining and Home Accessories - along with one overall "Best of Market distinction. Winners and finalists, which are selected by a panel of editors based on innovative design, product solution, aesthetic appeal, creativity and new material or technology, will be announced on Tuesday, February 2.

After-hours activities for market week participants include: the Gift For Life Kings & Queens Casino Night, a fundraiser benefitting DIFFA: Design Industries Foundation Fighting AIDS, on Sunday, January 31; and A Night on Broadway, featuring HAIR on Tuesday, February 2. As an added benefit, market participants are entitled to free admission to the New Museum - a home for contemporary art, an incubator for new ideas, and an architectural contribution to New York's urban landscape - during Market Week. Admission is free, from January 29 to February 4, upon presentation of a market badge, compliments of NYIGF, 7 W New York, 41 Madison and 230 Fifth Avenue.

Educational highlights include Color Pulse 2011, an advance look at key 2010-2011 color trends and their home applications, presented by New York Chapter of the International Furnishings & Design Association (IFDA), on Monday, February 1. On-trend business-related topics, such as sustainability, social media, licensing and economic recovery, and business basics, including buying strategies, retail math, merchandising and promotion are among subjects explored through NYIGF seminars.

Additionally, there will be several events happening within the individual showrooms at 7 West, including themed product promotions and receptions. Several buyer amenities will also be offered, including complimentary lunches for buyers in the 34th Street Café from January 29 through February 3, and access to Club 7W Buyers' Lounge, which will offer complimentary beverages and business services.