Hill-Rom forms JV with health care textiles leader Encompass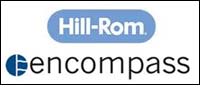 Hill-Rom and Encompass Group announced the formation of a joint venture that will focus on the sale and distribution of a comprehensive range of surface replacement systems that are intended to be sold separate from a bed frame and as replacements for surfaces that are technologically obsolete or at the end of their useful life. Hill-Rom, a global leader in patient support systems and related technologies, brings its 80 years of expertise and innovation in the areas of therapeutic and prevention surfaces together with Encompass, a recognized leader in health care textiles and therapeutic and prevention surfaces, to form a new jointly-owned company, Encompass TSS, LLC.

"Encompass and Hill-Rom today both participate in the rapidly growing surface replacement business, each with a separate product portfolio. The Centers for Medicare and Medicaid Services (CMS) 'no payment rules' for hospital acquired pressure ulcers and the rising acuity levels of patients, are driving significant category expansion," explained Mike Grippo, vice president of Corporate Development and Strategy at Hill-Rom. "This combination will offer our hospital customers the most comprehensive and advanced portfolio of stand-alone replacement surfaces in the industry, while fielding the largest national sales force exclusively dedicated to this category."

He continued, "We believe that the combination of Hill-Rom's strengths in therapy surface innovation and Encompass' highly regarded family of AccuMax and MaxiFloat surfaces and focused direct sales channel will enable us to accomplish that category expansion goal. This joint venture also will free Hill-Rom's sales and clinical consulting organization to focus on their large portfolio of patient support systems, patient environment, and health IT products sold as original equipment or rented."

Encompass Group, through its ETSS business unit, has traditionally been focused on meeting the needs of customers who desire high quality and affordable surface replacement systems. Hill-Rom's traditional focus on patient support systems, with a significant emphasis on advanced therapeutic surfaces, has resulted in key innovations in pressure reduction and redistribution, micro-climate management, antimicrobial protection, and the integration of surfaces with the bed frame. This joint venture will combine a single-minded focus on customer replacement surfaces with industry leading platforms carrying the AccuMax, MaxiFloat, Hill-Rom and Tempur-Pedic brands.

Encompass TSS will become the exclusive distributor of all but the most complex of Hill-Rom's capital surfaces in the after-market replacement segment in North America Acute Care. It is also expected that the joint venture will serve as the primary distribution channel for surface replacement products that Hill-Rom develops in the future. Encompass TSS will remain in place as a key supplier for Hill-Rom for non-powered and powered air support surfaces that are sold in combination with a new bed frame. The new company will continue to operate with headquarters at its current location in Pasadena, California, and the sales force will be expanded.