Thermo°Cool, evolution of comfort & dual functionality at MILIPOL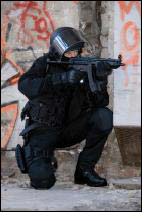 Less than two years since its launch, has proven its position in the demanding performance market, offering multifunctional properties. Now this innovative, high-tech fibre is making its way into military and police applications offering a significant quality leap in the long quest of perfect body thermoregulation.

The yarns contain a unique hybrid fiber mix that allows garments to smartly adapt to the needs of the user, providing evaporative cooling or thermo-buffering functions as needed during heaviest exertion.

Thermo °Cool is born from the experiences and years of study on human thermoregulation from the privileged platform of profiled cross section products that ADVANSA has enjoyed for years.Thermo °Cool consists of a unique blend of fibres with different cross sections inside the same yarn that will interact with the user of the garment. This intimate fiber blend in the yarn provides a dual functionality: When the user is hot and perspiring, the fabric will provide evaporative cooling, keeping the user cool and comfortable. When the user is cold and shivering, the fabric will reduce the exposure impact with external temperatures, keeping the user warm and thermo regulated.

NATURAL THERMOREGULATION: DUAL FUNCTION
When the user is cold, such as before engaging on physical activity or during a low activity gap or after action, when under the influence of post exercise chill, the hollow voids in the fabric provide a lightweight material with thermo buffering properties. It protects the user from temperature changes and also prevents post exercise chill while still allowing excess heat to dissipate into the air.

During physical exercise or hot weather,Thermo °Cool evaporates moisture faster than other materials thanks to its unique fibre mix. The fibres are designed to provide added evaporative surface and outstanding moisture transport due to the channels on the surface of the multi-channel fibres. Hollow fibres allow enhanced air circulation and focus energy on the evaporation process to achieve unmatched evaporative cooling. As a result of the unique fibre mix, the fabric's temperature tends to remain within the boundaries of comfort. This capability to neutralize too much heat or too much cold is the unique thermo buffering performance of Thermo °Cool.

THE FRESH OPTION
ADVANSA has also launched Thermo °Cool FRESH. An active antimicrobial durable and non-migratory ingredient -Silver ions- is inserted in the polymer during the manufacturing of the fibers. This ingredient has been shown to be highly effective in the laboratory against a wide range of microorganisms.

The action mechanism of silver ions interacts with microbes to disrupt their cellular functions, thereby, inhibiting growth of the microbial colonies. Microbes nourish out of components present in human sweat and body oils, the by-side product of this process produce small. The Silver ions will control bacteria growth on the fabric and help to prevent bad odours.